Inspiration
Capturing beautiful nighttime photography with the SIGMA fp
Capturing beautiful nighttime photography with the SIGMA fp
- Jack Fusco
This piece was originally created by photographer Jack Fusco for SIGMA Corporation of America for blog.sigmaphoto.com
As I've been able to slowly, and safely, plan a few local trips around the San Diego area to take photos of the stars, I've been fortunate enough to bring the SIGMA fp along on my nighttime photography adventures.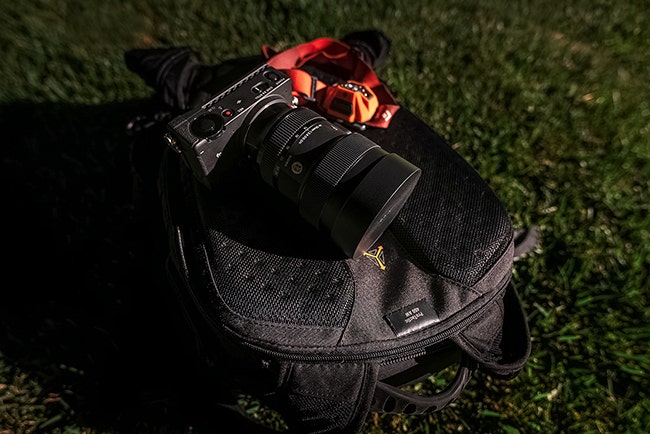 The SIGMA fp with the 14-24mm F2.8 DG DN attached is a truly compact astro kit
When looking at the fp, the first thing that will likely jump out is the small form factor. I've always had the belief of performance before convenience. If that meant carrying a piece of gear that was slightly heavier or just a bit more work to use, I'd likely opt for the first option before deciding to save on space or weight. But I was excited to bring along the fp thanks to its unique combination of small size, full frame sensor and video capabilities.

Anytime a smaller camera hits the market, the ergonomics are almost always called into question. Although small in size, the SIGMA fp does offer two optional handgrips, or the ability to mount plenty of accessories that make it feel comfortable to hold. I personally opted out of using any of these since my camera is generally always mounted to a tripod or a gimbal, but it's nice to know they're available.

While I thought I'd be using the fp to capture behind-the-scenes video footage, I very quickly found myself grabbing it for stills as well. With the right amount of available light, I was in love with the way it was rendering color in my nightscapes.

My first two shoots with the fp were attempts to mix styles and show a bit of behind-the-scenes stills at night. In each situation, I had a specific product in the image that I wanted to highlight while staying true to my style of photography. The first was the Rode jacket from the company Rhone that I work with, and second was a Dell XPS 13 2-ion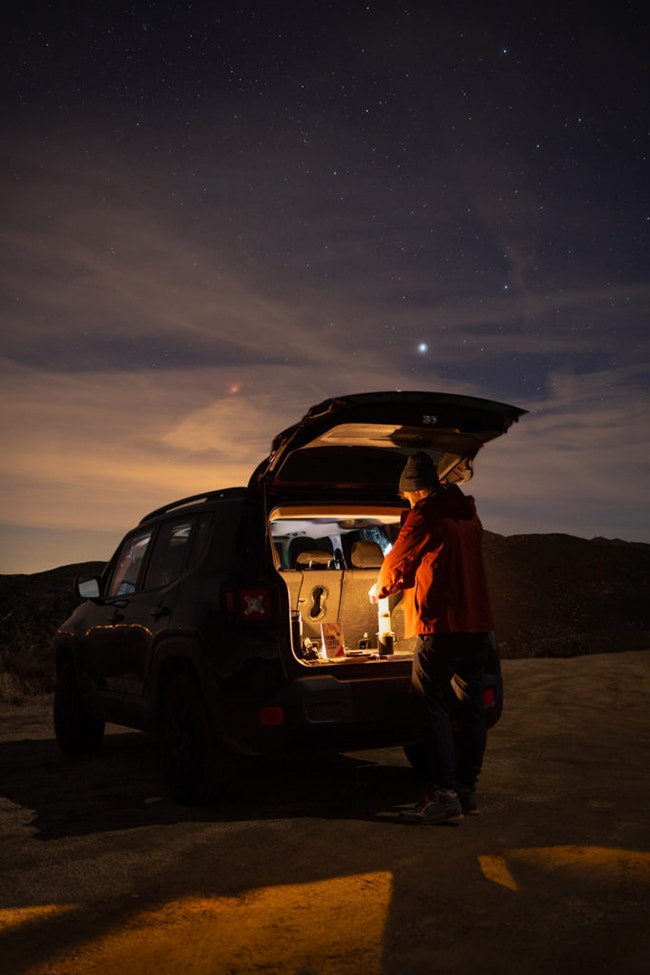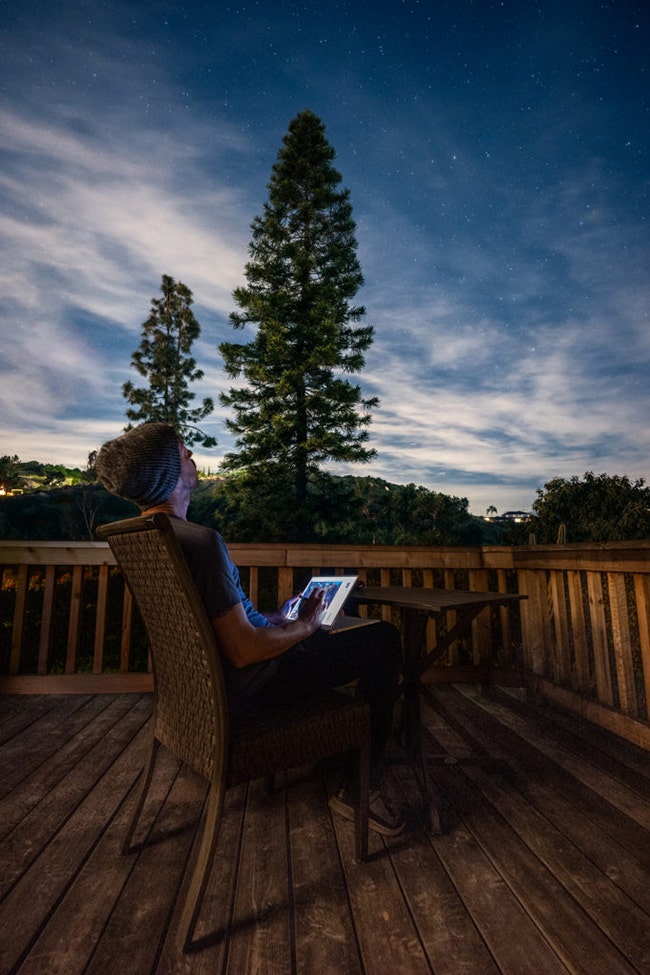 I approached each of these images in a similar way. Beacause I wanted to appear larger in frame to show detail in the products, I took a separate exposure focused on my foreground and then jumped behind the camera to adjust focus to infinity and capture a photo of the stars. I used slightly shorter exposures for the foreground images so I could stay sharp in the images. It would've been possible to take these earlier in the day and then composite them with the images of the stars, but I prefer all my images to be captured consecutively to capture the scene as true-to-life as possible. The files from the fp were incredibly sharp with an impressive level of detail in the DNG files.

After taking the two images in a somewhat controlled environment, I was excited to head out again and find more ways to test the fp. One of the first opportunities I had to do so was shooting bioluminescence along the San Diego coast. Now this was definately a leap of faith. These weren't images or conditions I would be able to replicate if the photos didn't turn out the way I hoped.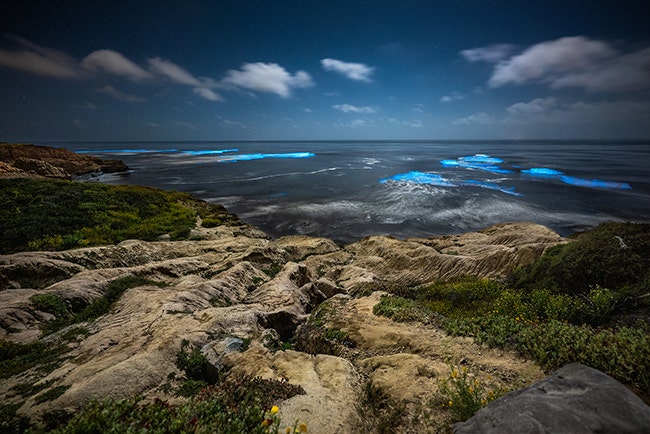 With astrophotography, I usually plan images months in advance while waiting for celestial objects to line up with different foregrounds. Once I have that planned out, I then have a short window of shooting around the different moon phases. After that, it´s a matter of keeping my fingers crossed that the weather cooperates. It's not uncommon for things to go wrong despite careful planning, but it's important to be as prepared as possible. For these images, not only were all of those conditions a factor, but the bioluminescence is completely unpredictable in how long it will last, how intense it will be, or even what location it will be in.

While taking these images, I wanted to continue to test how far I could push the SIGMA fp. Because the coast in San Diego is pretty populated, it has a decent bit of ambient light. While not ideal for astrophotography, it does help a bit when it comes to adding a bit of light to you foregrounds.


I used the ambient light to my advantage and ran into the center of the frame knowing I would be well lit. I just needed to get lucky and stand still during the perfect set of waves! Standing still during longer exposures is always a bit of a challenge, but even moreso when you have glowing blue waves that make you want to spin you head in every direction. You can help hide a bit of movement by standing further away from the camera, but any further for me and I would've needed a beach towel.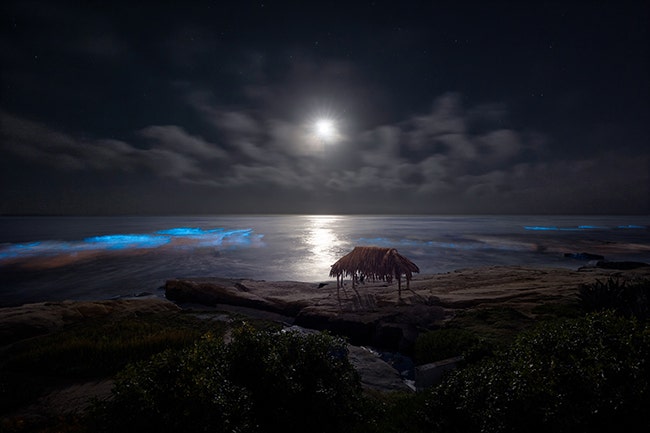 While continuing to test the capabilities of the camera, I was forcing myself to attempt new techniques as well. This particular is a pretty iconic spot in San Diego, but unfortunately has an incredibly bright light that shines down onto the beach from a tall building just across the street. It goes beyond "helpful foreground light" and well into the "ruin your long exposure" category. Add a bright moon sitting just a bit too high above the horizon, and everything about this stacks up against a normal approach.

Looking at the scene, I could break it down into three distinct areas. A moonlit sky, bioluminescent waves, and a foreground lit by both the moon and artificial light. I started by capturing the foreground with a short exposure and the ocean with slightly longer exposure. From there, I adjusted my aperture to achieve a slight star effect on the moon and took my exposure for the sky. In post, I wanted to blend these images together while keeping the appearence that the moon was providing all of the light. I masked in all three images and adjusted each individual area so they would blend together smoothly. The tones that the SIGMA fp produced along the foreground are among some of my favorite that I've captured in a nightscape.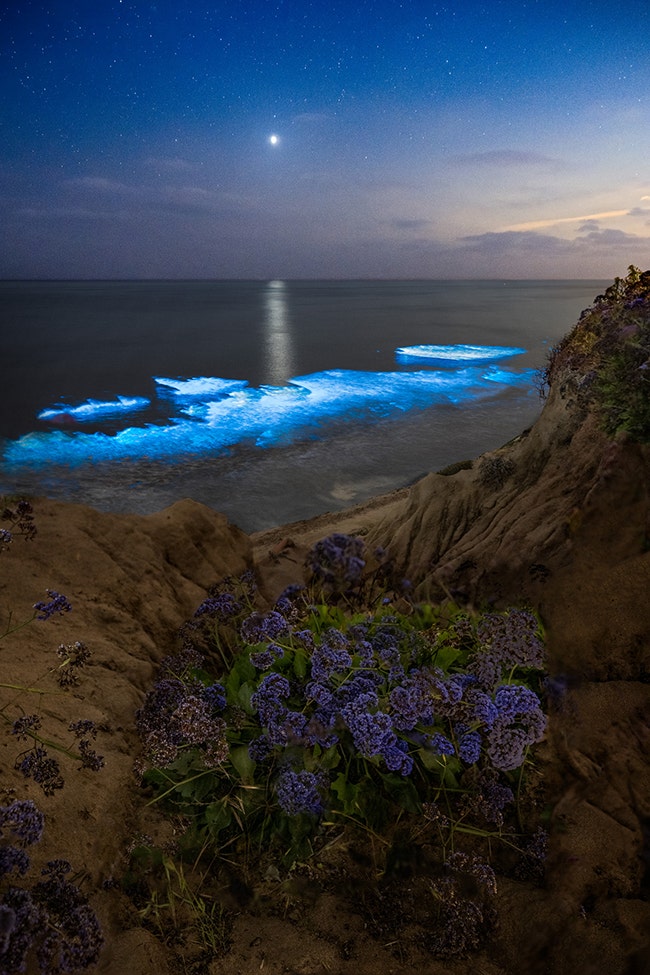 One of my favorite images from the fp and of the bioluminescence was one that I didn't actually plan to take. I was heading to the bluffs thinking I would just observe, but decided I couldn't go without a camera. At this point, I grabbed the fp and a travel tripod because it wouldn't be a big deal if I didn't end up using them and just carried a little extra weight around. The waves ended up being brighter than previous nights, and with Jupiter glowing above the horizon, I just couldn't help but stop for a quick photo along the bluffs. The flowers made the perfect anchor in the foreground, the last bit of sunlight faded from the sky, and the waves lit up like I had never seen in my life. I can't tell you how thankful I was that I brought the fp along.

Now that I had done a pretty extensive bit of shooting with some ambient light, I had one true test for the SIGMA fp left. That meant heading to truly dark skies and capturing the Milky Way. I ventured to Trona Pinnacles to shoot a short video and kept my fingers crossed for good conditions as the night progressed.

Despite all of my shooting with the fp so far, I wanted to cover all my bases. So, I ended up shooting this scene in a number of different ways. I shot it as a single exposure, I took multiple exposures that I could turn in to a timelapse or use to stack and reduce noise, and I used a star tracker to take an even, long exposure of the stars.

The image with the star tracker ended up being my favorite of the night as the detail in the sky was just incredible.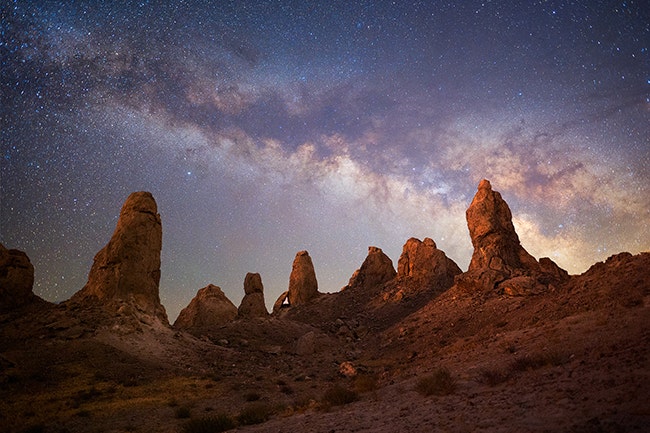 To set up, I started by doing what's called a polar alignment with the Fornax LightTrack II. This calibrates the star tracker so it can slowly turn to the left to compensate for the rotation of the Earth. This allows for longer exposures of the stars while keeping them pinpoint sharp and capturing even more data from the sky. Once the longer exposure for the sky is taken, another exposure for the foreground needs to be taken as well. Being able to take longer exposures for both the sky and foreground helps create a final image that has a higher level of detail, while maintaining sharpness and keeping your noice in check.

As I've talked a good bit about how much I love the colors the fp produces, I wanted to capture some additional images to help show that off. I made my way to a canyon in Southern California under a decent bit of moonlight. The images below required a minimal amount of processing. That's something that is incredibly valuable to me as I'd much prefer spending more time in the field and less time dialing my images in during post processing.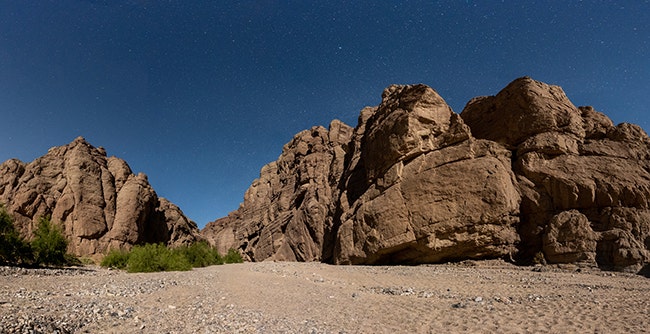 Using the tone and color setting available through the menus of the fp left just small adjustments to be made as can be seen in this side-by-side comparison.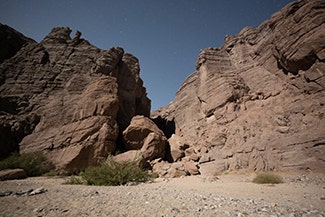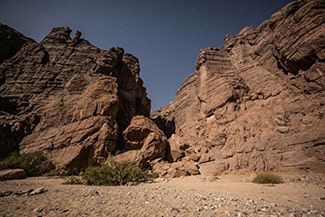 with in-camera adjustments


Once again the SIGMA fp exceeded my expectations when it came to low-light capabilities. Pair that with its small footprint, impressive video feature set, and having the entire L-Mount ecosystem of lenses available, and it makes for an incredibly valuable tool to have in your bag for adventure photographers and filmmakers alike.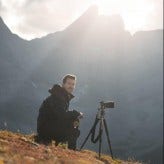 "Jack Fusco is a landscape astrophotographer / timelapser based out of San Diego, California. What began as a way purely to document his travels as a touring musician, photography has become his main form of creative expression. On his often sleepless journey, he strives to share the wonder of the night sky with as many people as possible. Whether chasing the Milky Way along coast lines or capturing the Northern lights in unforgiving remote locations you're sure to find him coffee in hand, smiling up at the stars. Many of Jack's images are often planned days, weeks, or even months in advance while waiting for weather and celestial objects to align. The resulting work shows a ture and complete dedication to his craft. His work has been featured by National Geographic, LA Times, NASA APOD, BBC, Forbes and many more."