Inspiration
Tiny Toy Photography with the SIGMA 70mm F2.8 DG Macro | Art
Tiny Toy Photography with the SIGMA 70mm F2.8 DG Macro | Art
- Nick Vrona
I've never been a big stickler for rules when it comes to photography. Whether it's the "Rule of Thirds," three-point lighting or golden trapezoids or whatever the heck it is, I have never — nor encouraged anyone — to set their approach in stone. All art is subjective, and so are the methods you apply to achieve it.

But it appears that, despite my philosophical objections, there is one minor technicality that we photographers can't quite escape… to be a photographer, you need something to photograph. A person. A flower. A bug. A texture. ANYTHING.

So when you're cooped up at home, nobody is willing to pose, the weather is gray and dreary, and even the normally brazen crickets in the basement have disappeared, what's a photographer to do? That's right. You steal your childrens' toys and take dramatic close-ups!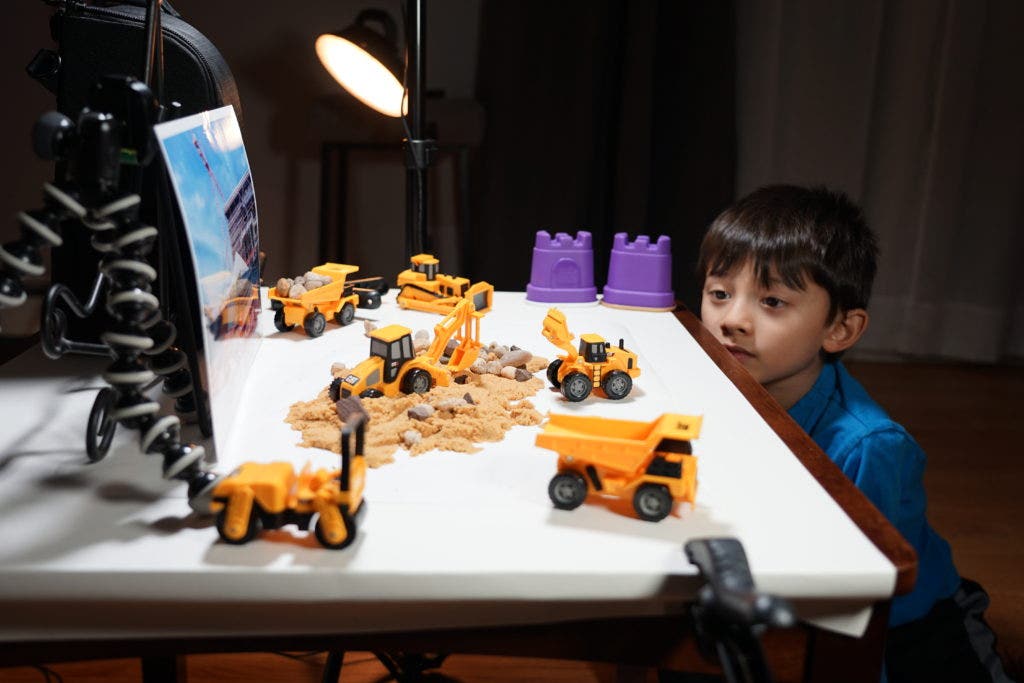 With my SIGMA 70mm F2.8 Macro | Art lens, Sony A7 III and an assortment of tiny toys on hand, I began this afternoon project with one goal in mind… to make these playthings look cool.

It began with a little model of a Lockheed P-38 Lightning, a WWII-era aircraft that always played second-fiddle to the Mustang. Now was its time to shine! I envisioned a shot of the plane banking with the sun setting behind it, and since I didn't have a nice, orange miniature sunset lying around, I printed out a picture of a real one and set that up as a background.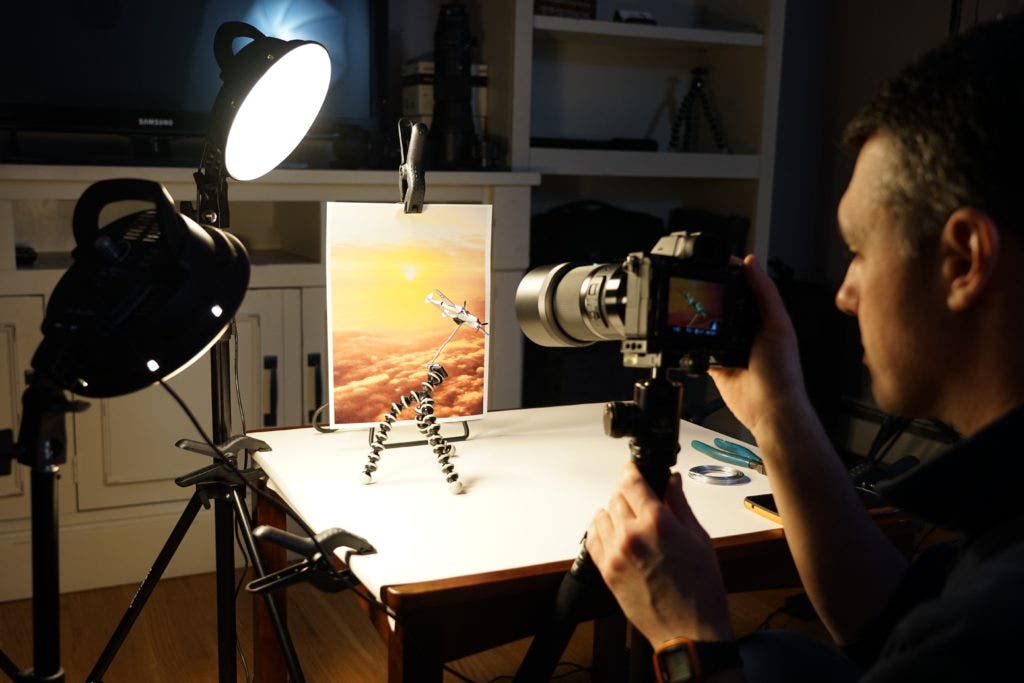 Next, I wound a piece of thin but sturdy wire around an old Gorillapod and delicately balanced the plane on top, positioning the model with my final shot in mind. I used a couple cheap LED lights (set to 2700K) to illuminate the scene, taking care to avoid glare on the glossy background. Next, after fiddling with the aperture to get the depth of field I wanted, I played with the ISO and shutter speed to capture juuuust enough movement when I blew air over the propellers. A little editing to remove the wire and add a bit of pizzazz, and my son's P-38 has never looked better!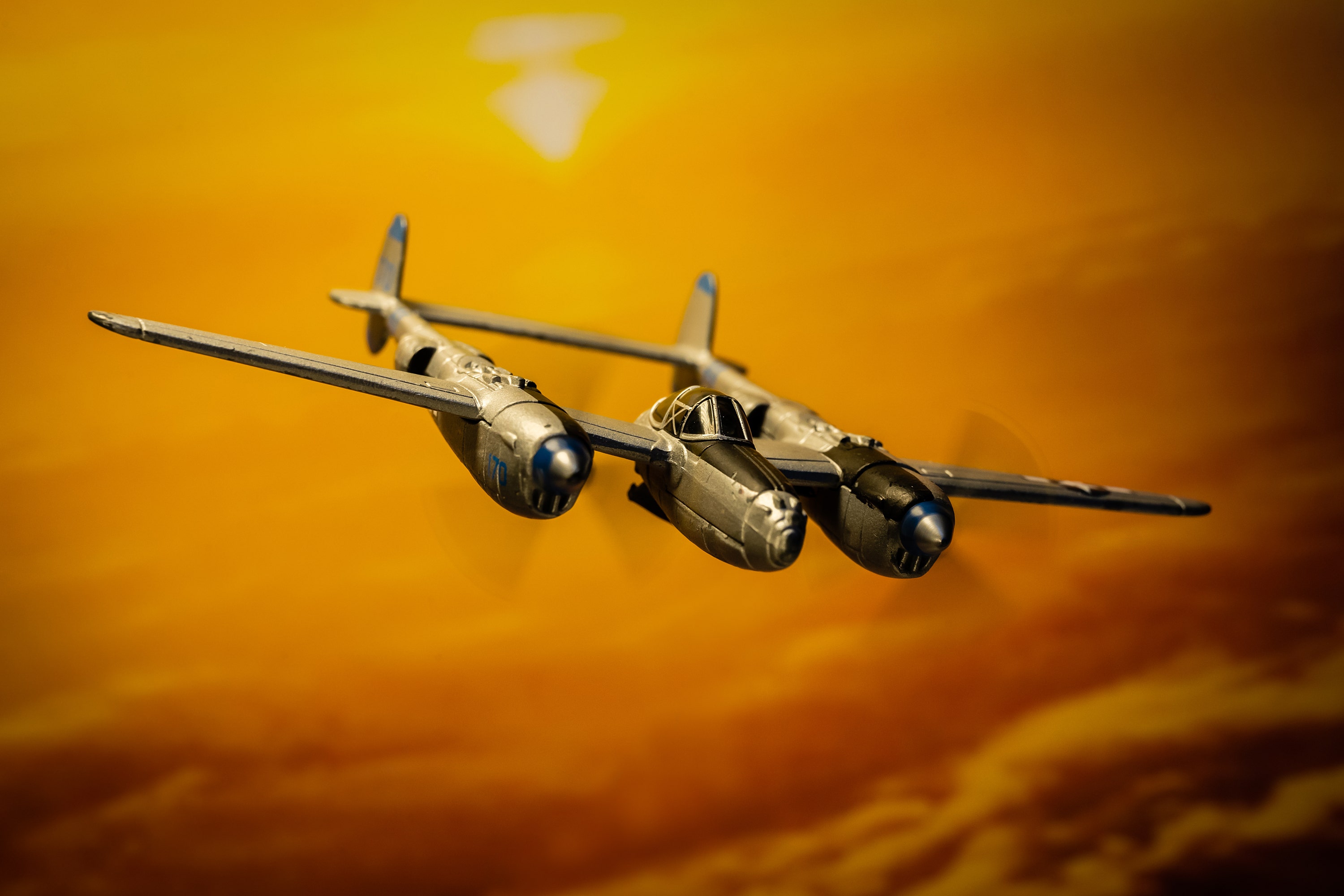 70mm F2.8 DG Macro Art on Sony A7 III, 1/50s, F/13, ISO 1250
Next, my 6-year-old helper Danny came along with his most irritable-looking Batman figure. I figured a scene straight out of Gotham City would be appropriate, so I ditched the printout for a black backdrop and dark, foreboding skyscrapers made entirely of Sigma lenses. A purple gel over the background light, a bright backlight and a dim fill light over my shoulder, and Batman was ready to foil villains once again.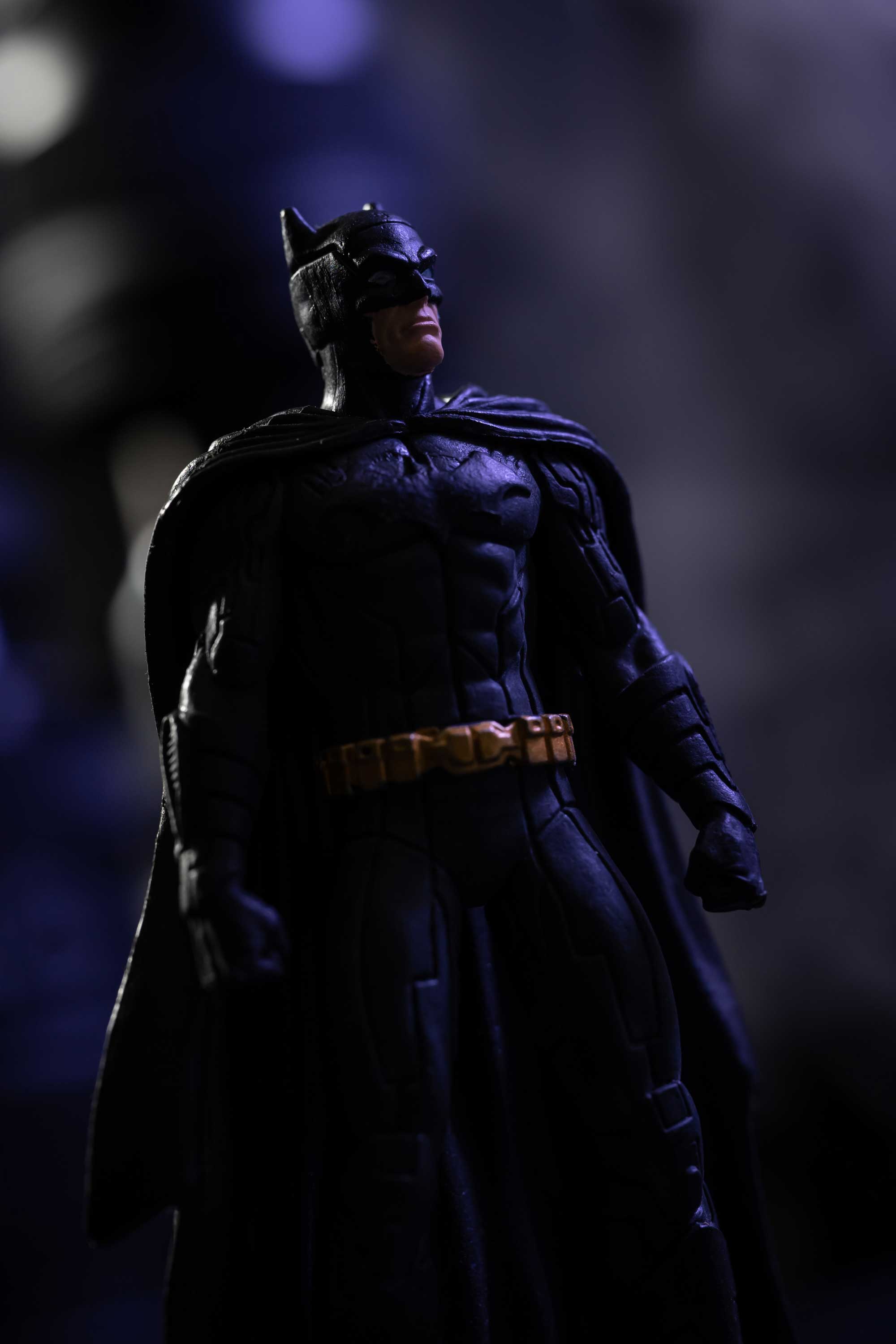 Or so I thought! I realized was this scene really needed was the ubiquitous fog that is always wafting around Gotham and similarly crime-ridden locales. No fog machine? Don't want to set off the smoke alarm? No problem. A standard cool mist humidifier (anyone with little kids probably has one stuffed in a closet somewhere) produces the PERFECT gloomy vapor for a shot like this.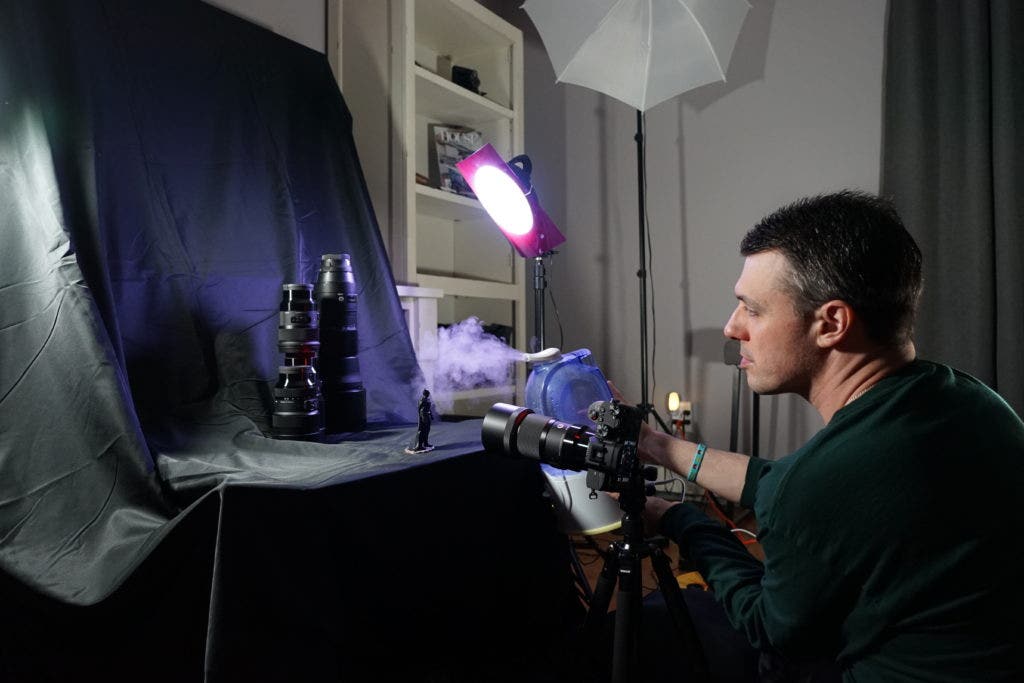 Gotham, featuring the 150-600mm Contemporary, 14-24mm F2.8 DG DN Art and 85mm F1.4 Art.
And indeed, with a little more shutter speed finagling to get the flow of the mist just right, I was rewarded with a couple of extra-seedy shots of the Dark Knight, sure to bring nightmares to evildoers everywhere… or my son, either way.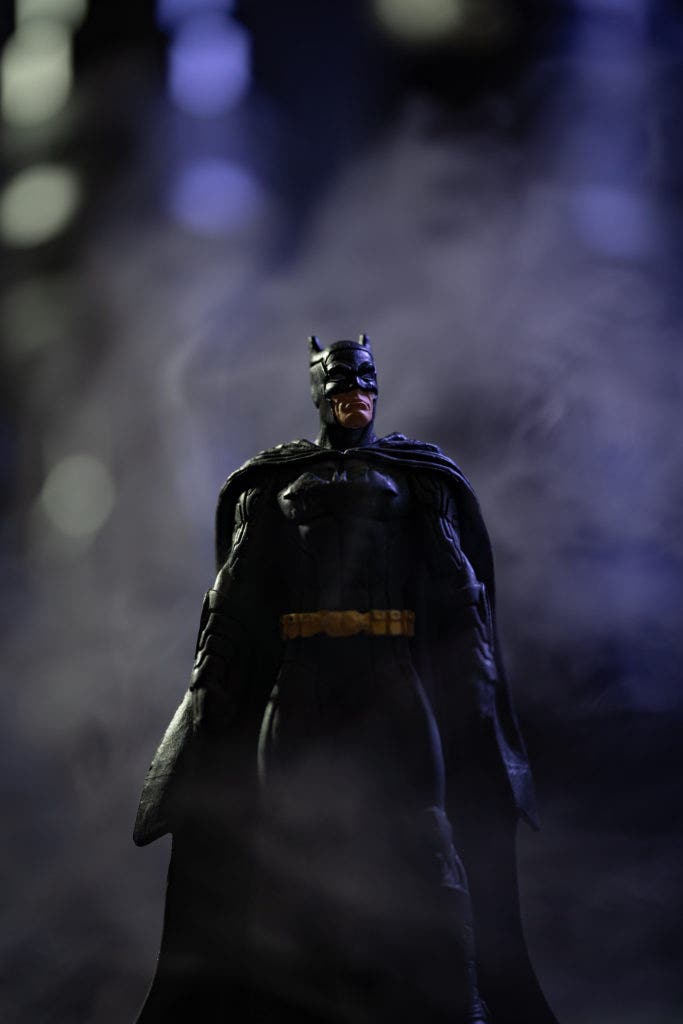 70mm F2.8 Macro Art, 1/80s, F/2.8, ISO 800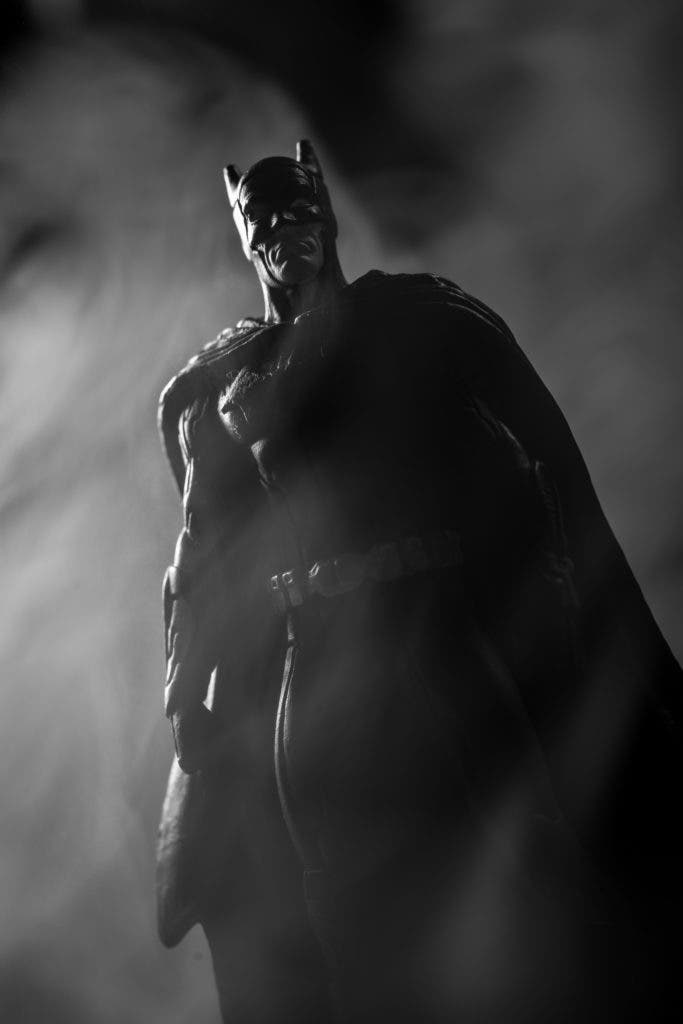 70mm F2.8 Macro Art, 1/13s, F/8, ISO 250
Next, I made my way to the basement to make photographic use of the slot car track that I trip over every single day. Unlike the days of my youth, these modern slot cars actually look like real racers, complete with sponsors and minuscule details that most people would never notice. But thanks to the magic of macro, those details will be on full display!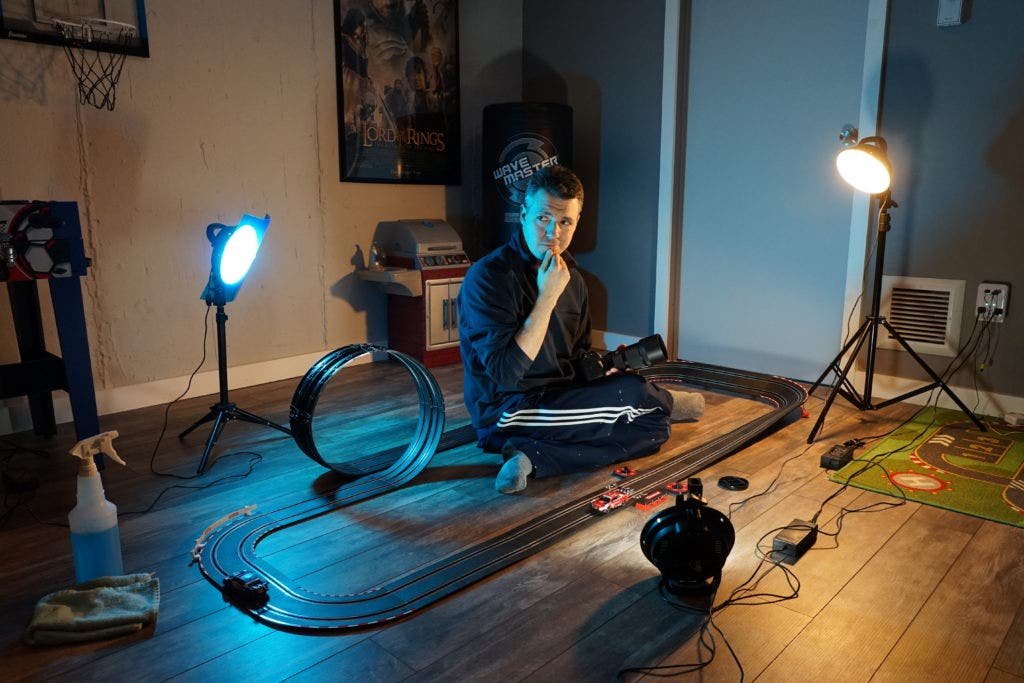 My first decision was that I wanted to shoot the cars at the starting line with a big, bright backlight and a long symmetrical track running from foreground to far background. I added a blue gel, changed the lights around, shifted the angle, but it just didn't feel… special. And that's when I grabbed the bottle of glass cleaner I was using to clean the track (how uncreative) and MADE IT RAIN.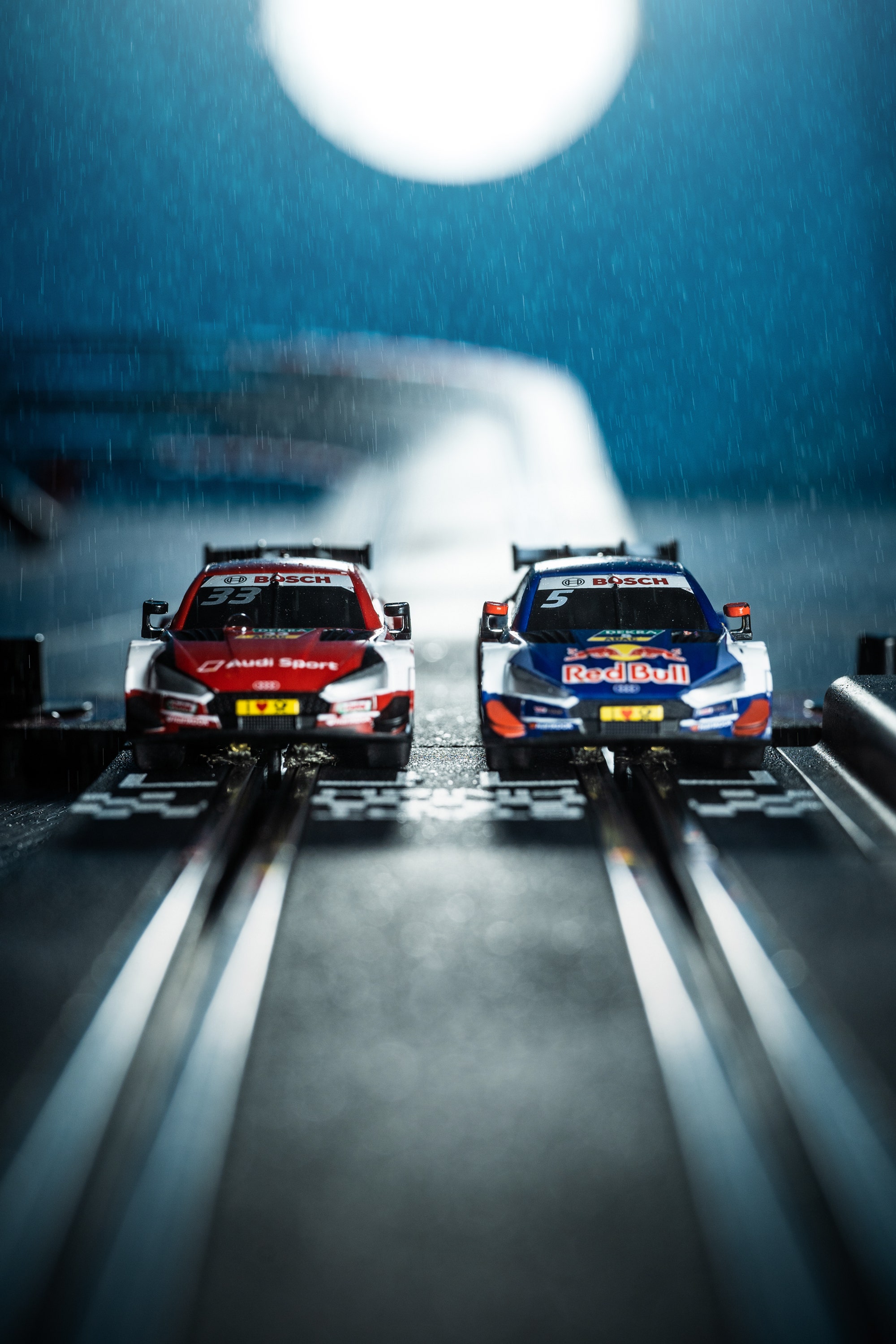 70mm F2.8 DG Macro Art on Sony A7 III, 1/10s, F/11, ISO 100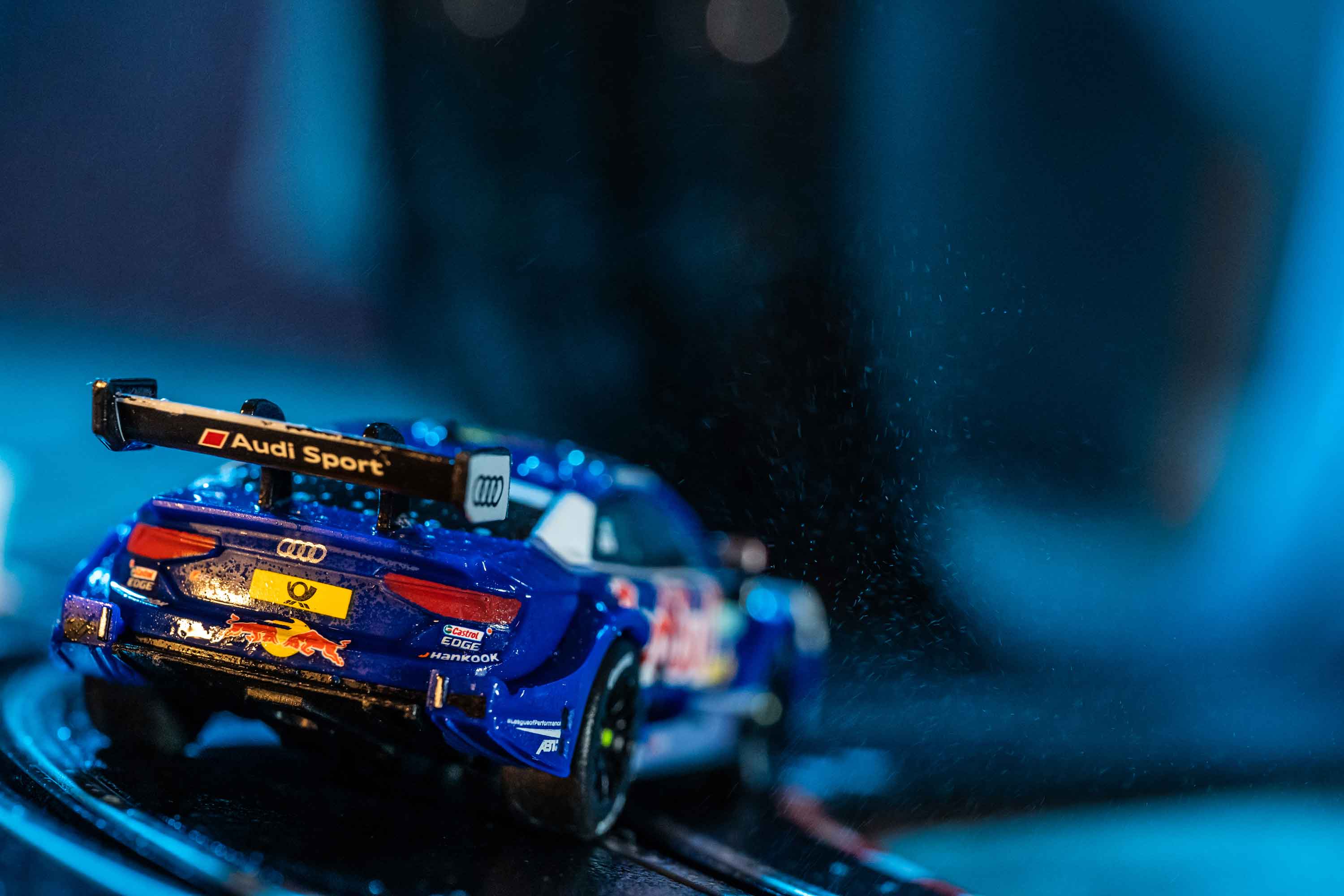 70mm F2.8 DG Macro Art on Sony A7 III, 1/80s, F/5.6, ISO 6400
Whether you're shooting freshly-waxed supercars or some dusty toys in your cellar, there's nothing like a wet track to give every vehicle in the scene a little extra oomph. Not like that's a rule or anything.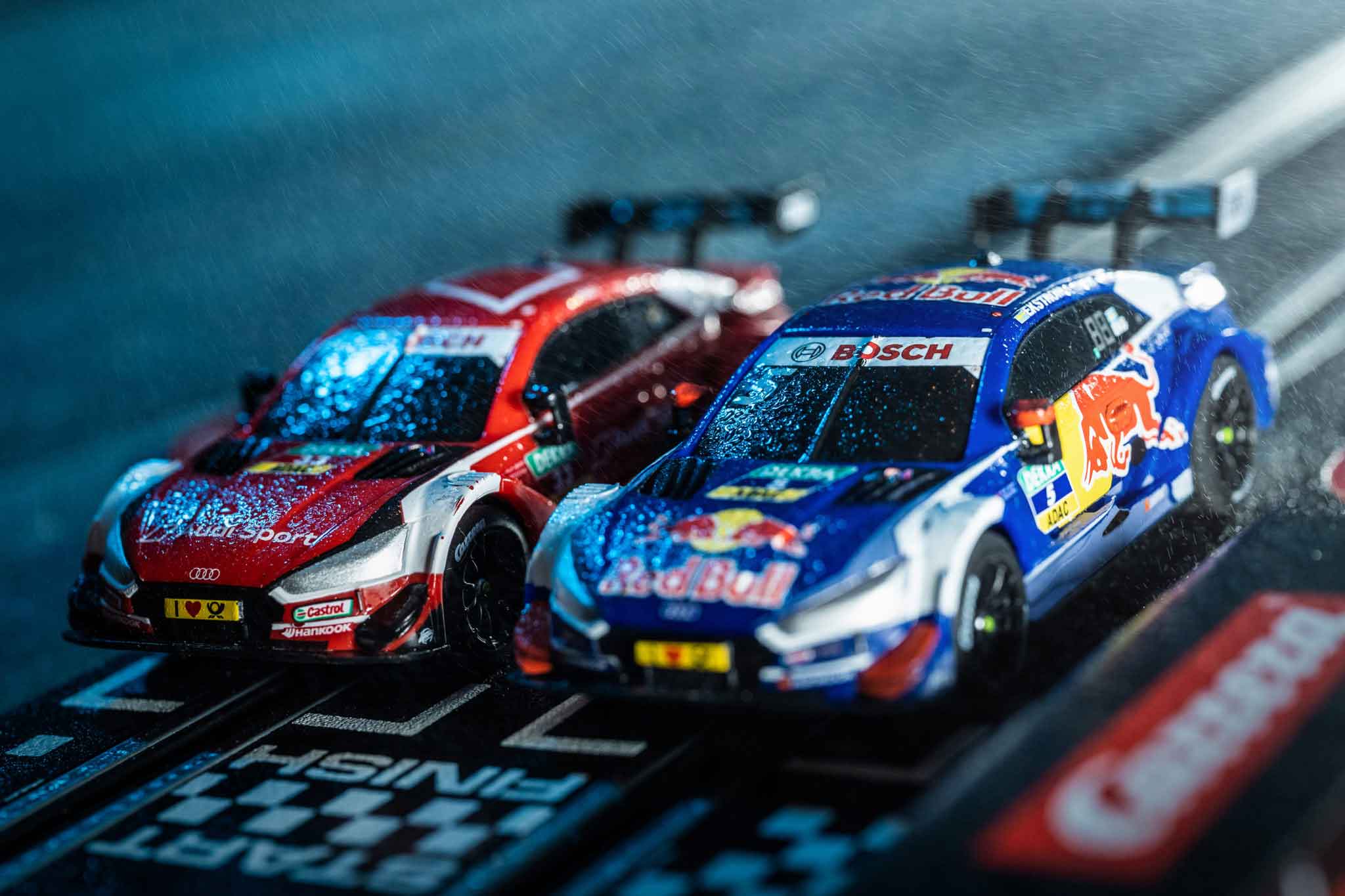 70mm F2.8 DG Macro Art on Sony A7 III, 1/125s, F/5.6, ISO 2000
By now, the afternoon was waning and it was time to head outside and kick my feet up next to a gently crackling campfire with a nice glass of red wine. By which I mean time to photograph little plastic toys next to a cauldron of flames roaring like an afterburner while the boys throw leaves and other highly-flammable items into the pit.

My subjects this time were Link and Ganondorf from the Zelda series of video games. If you don't know these characters — well, one is cute and heroic, and the other is a big, evil jerk. You can probably figure out which is which.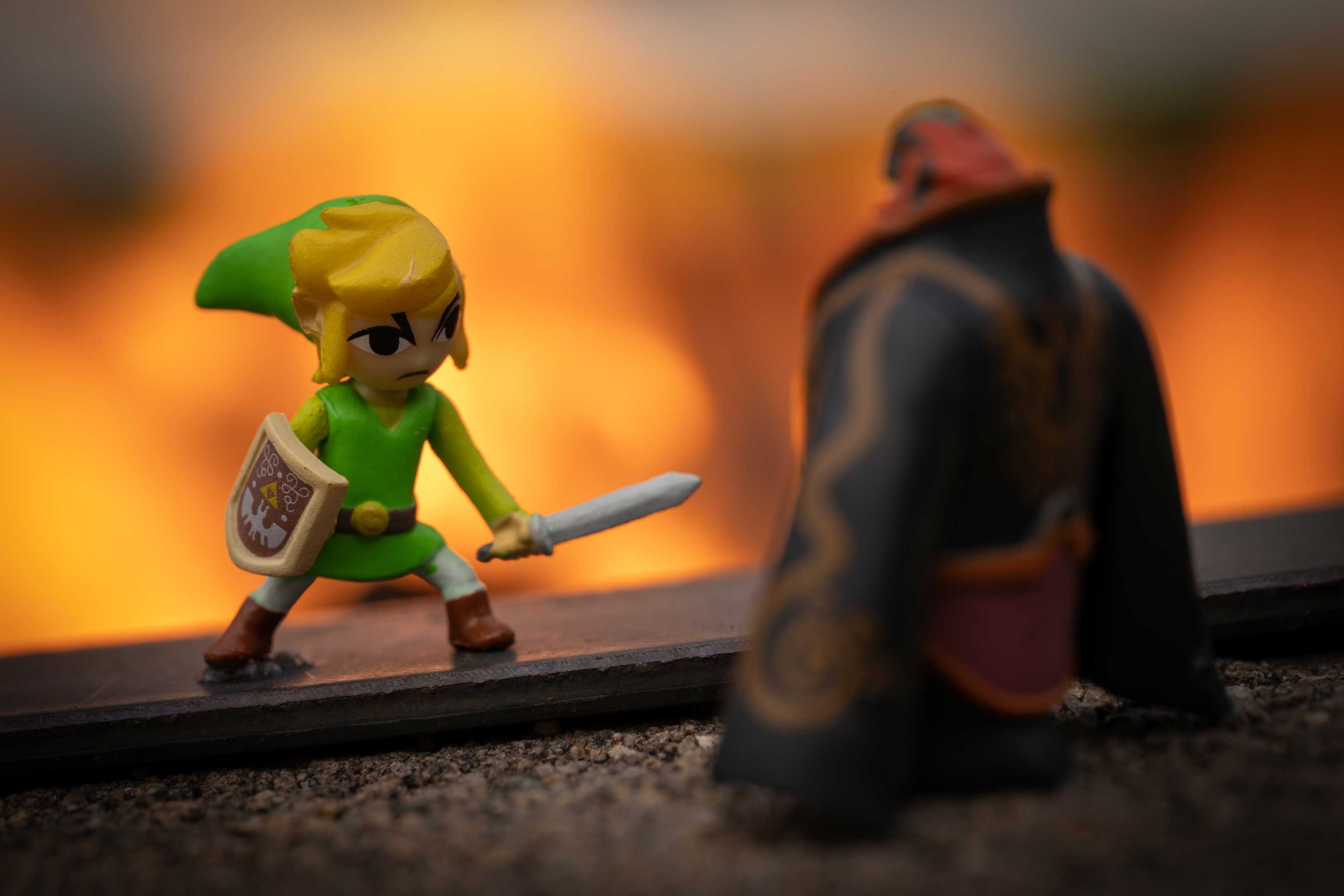 70mm F2.8 DG Macro Art on Sony A7 III, 1/10s, F/8, ISO 100
Luckily, because I was outdoors and the overcast lighting was bright and flat, no additional equipment — aside from a tripod — was needed for this little shoot. I was able to concentrate on positioning the miniatures in their battle scene and finding the right shutter speed to make the flames look like a massive, seething caldera of doom and not a chintzy backyard fire pit.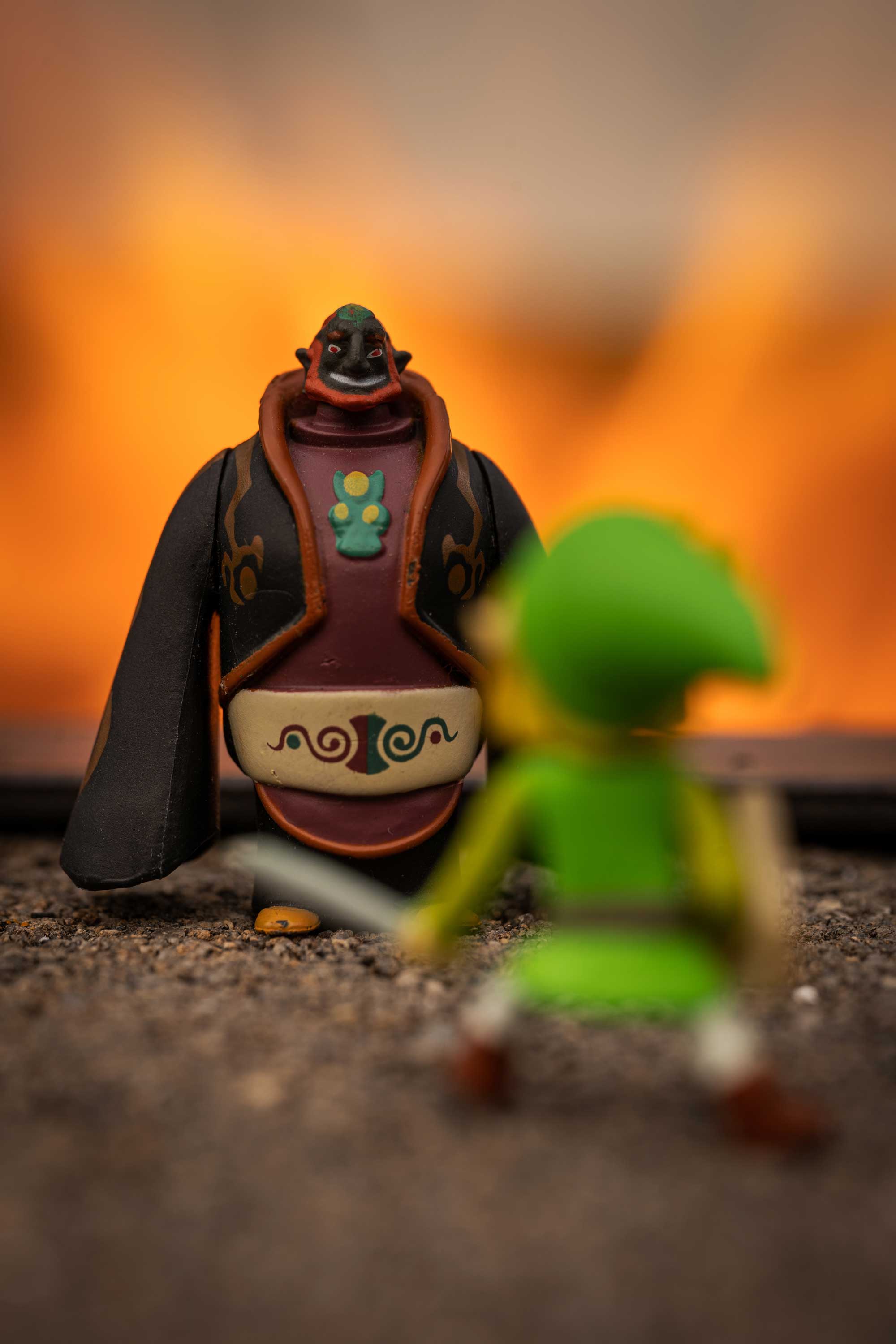 Don't blame me, I didn't paint Ganondorf's eyes.
Finally, I went back indoors to end this little project with a few more colorful figurines with fairly basic lighting and simple backgrounds. Sort of a palette cleanser after all those elemental effects, colored lights and elaborate backdrops. Also I was full of s'mores and wanted to go to bed.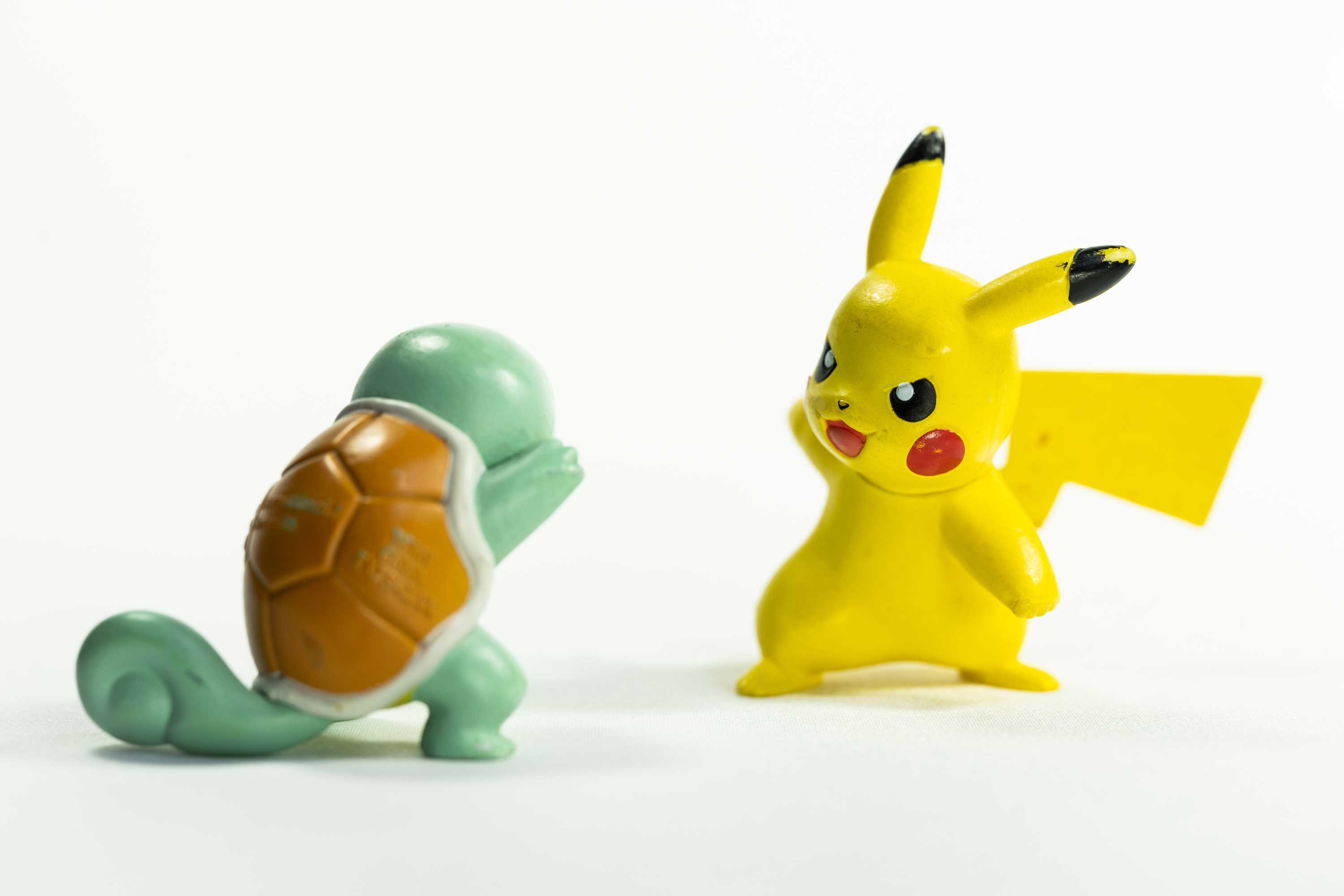 70mm F2.8 DG Macro Art on Sony A7 III, 1/15s, F/6.3, ISO 100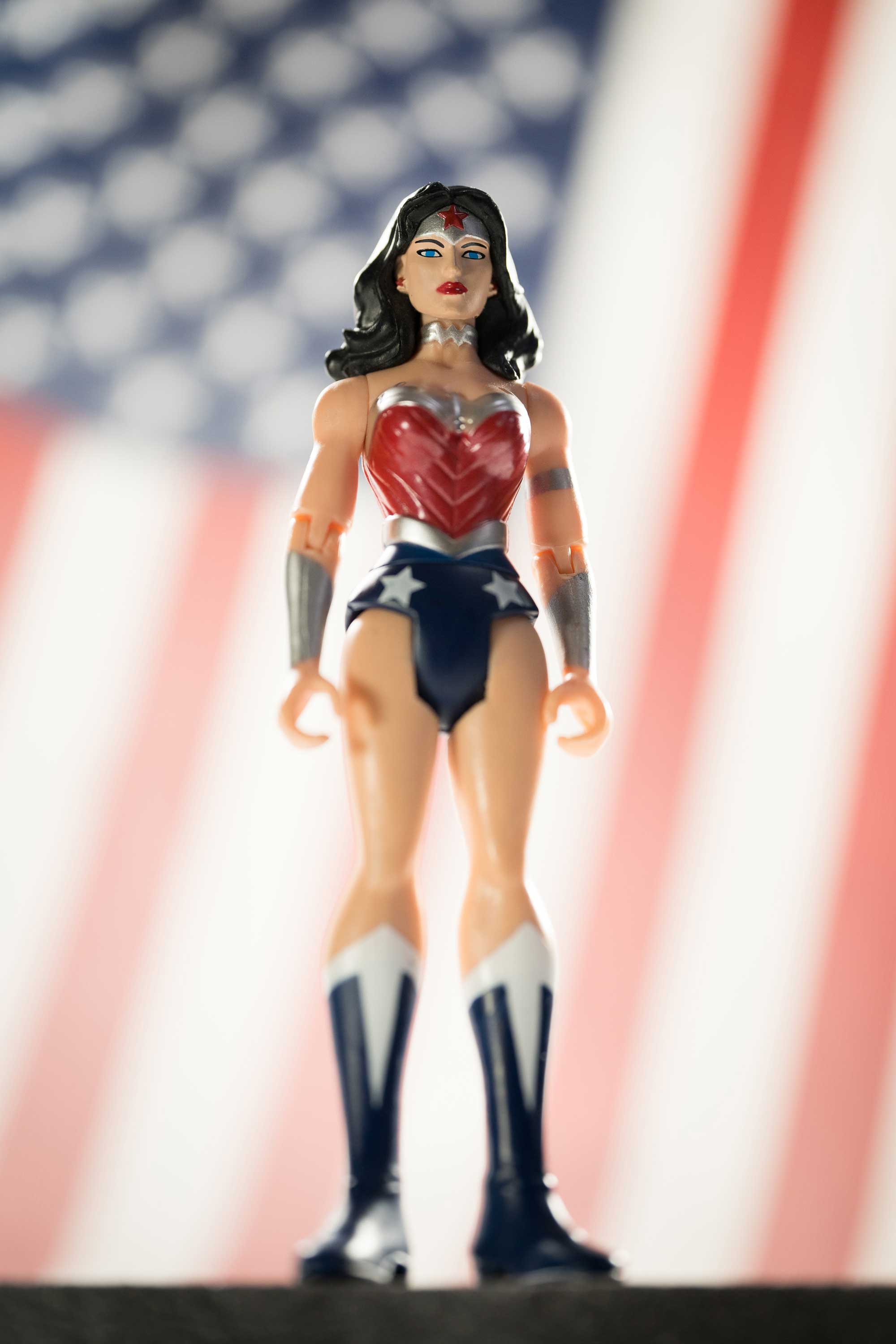 70mm F2.8 DG Macro Art on Sony A7 III, 1/200s, F/2.8, ISO 100
And with Wonder Woman's steely, patriotic gaze, my 100%-unaffiliated-with-any-licensed-property macro adventure came to a close. While close-up photography is not my go-to genre, and I certainly wouldn't call myself an expert, I must admit I do enjoy staging these miniature scenes and I feel like my overall visual awareness — and my understanding of my gear — has absolutely progressed. From lighting to creating atmosphere to utilizing everyday objects as "real life" analogues, shooting small can exercise a lot of the photography muscles you might not regularly pay attention to.

And best of all? You don't have to follow a single rule. The toys won't mind.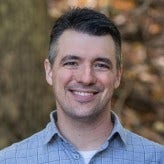 Nick Vrona
Photographer

Nick Vrona is an artist, photographer, video producer, local karaoke star and former pro wrestling ring announcer, and has been in the photographic retail biz since 2006. He works at SIGMA, too. His favorite subjects are his family, his chickens and the White Mountains of New Hampshire.

Website