Inspiration
Aurora Photography with SIGMA Nordic Ambassadors Lorenzo Mirandola and Luisa Schaffner
Aurora Photography with SIGMA Nordic Ambassadors Lorenzo Mirandola and Luisa Schaffner
- Lorenzo Mirandola & Luisa Schaffner
Aurora photography might be one of the most interesting fields in astrophotography. They have different shapes, colours and there is a huge variety of locations where you can take pictures of them and get amazing shots: with an autumn reflection on lakes, in the snowy winter landscape or maybe in the fjords of Norway.

But maybe you have asked yourself: Where can the Aurora be seen? When is actually the best time to see it? And what is the best equipment for aurora photography?
Reflection of Northern Lights on a lake.
Photo: Lorenzo Mirandola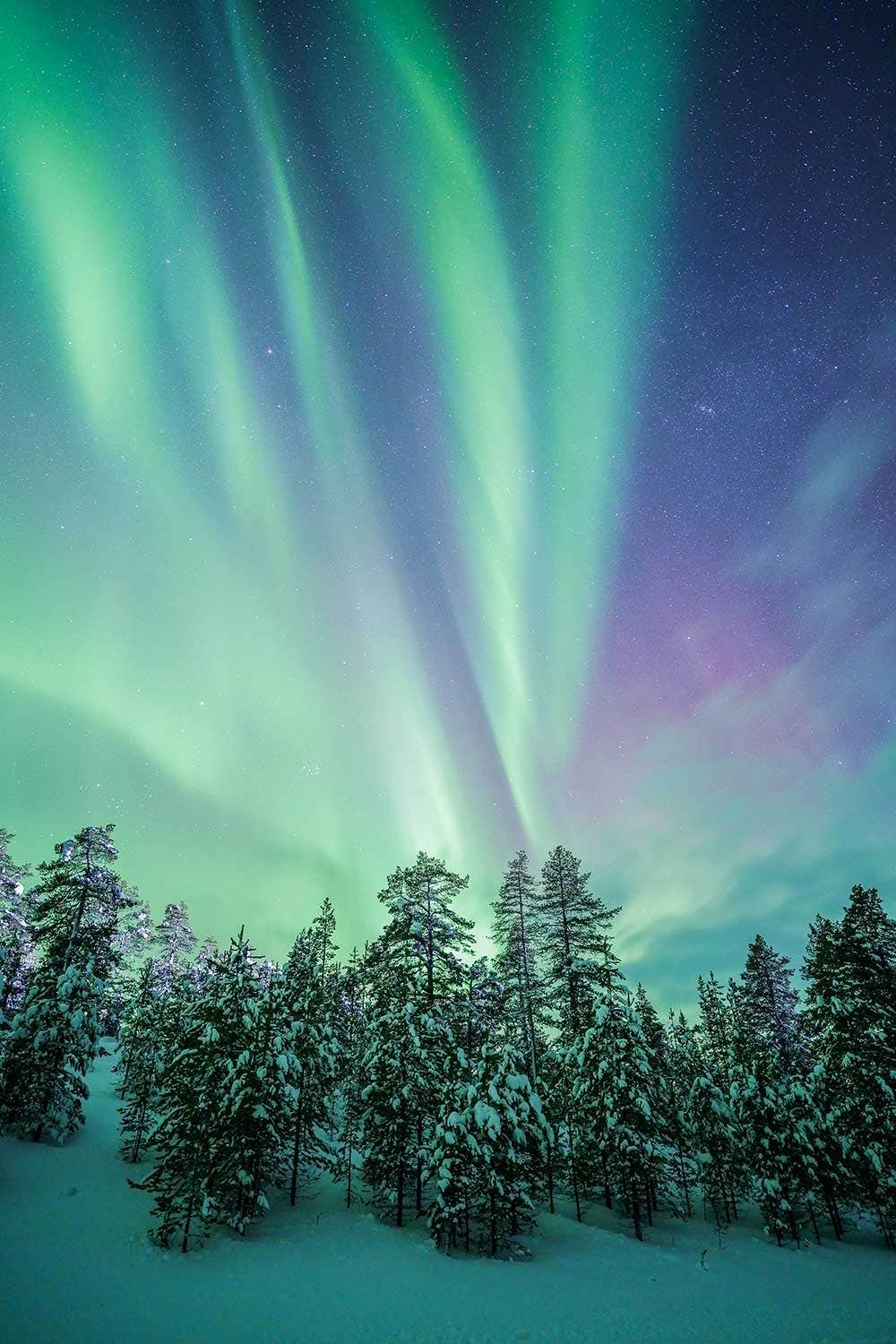 Aurora with snowy trees.
Photo: Luisa Schaffner
Where can the Northern Lights be seen?
Northern Lights can be seen along the Aurora oval. The Aurora oval is changing every day according to the solar activity, but mostly stays over the countries around the arctic circle and north/south of it, which means Canada, Alaska (USA), Greenland, Iceland, Russia, Finland, Sweden and Norway. The Aurora oval can change according to the solar wind data. The stronger the connection between earth and the interplanetary magnetic field is, the lower the Aurora oval can grow. That can sometimes give the chance to see the northern lights at mid latitudes, and not only around the Arctic circle. They were visible even in Switzerland this autumn!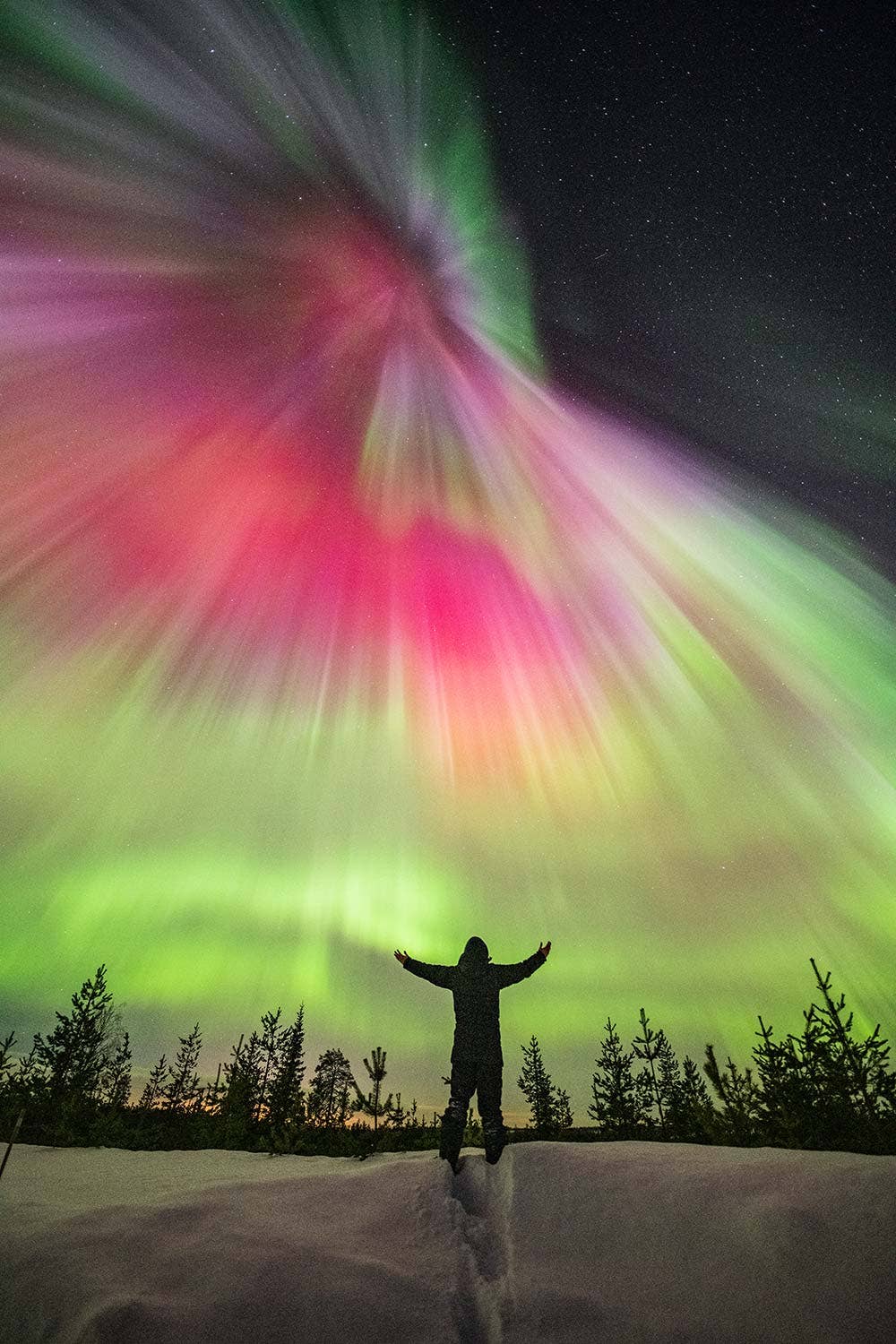 Aurora substorm.
Photo: Lorenzo Mirandola
When is the best time to see the Northern Lights?
The aurora season lasts from mid August and until mid April. More specifically in Rovaniemi, Finland, the first aurora can be visible already on the 8th to 10th of August and they can be visible until the 25th of April. The further north you go the shorter the season will last because of the bright nights. Northcape for example has its season from the beginning of September to the end of March!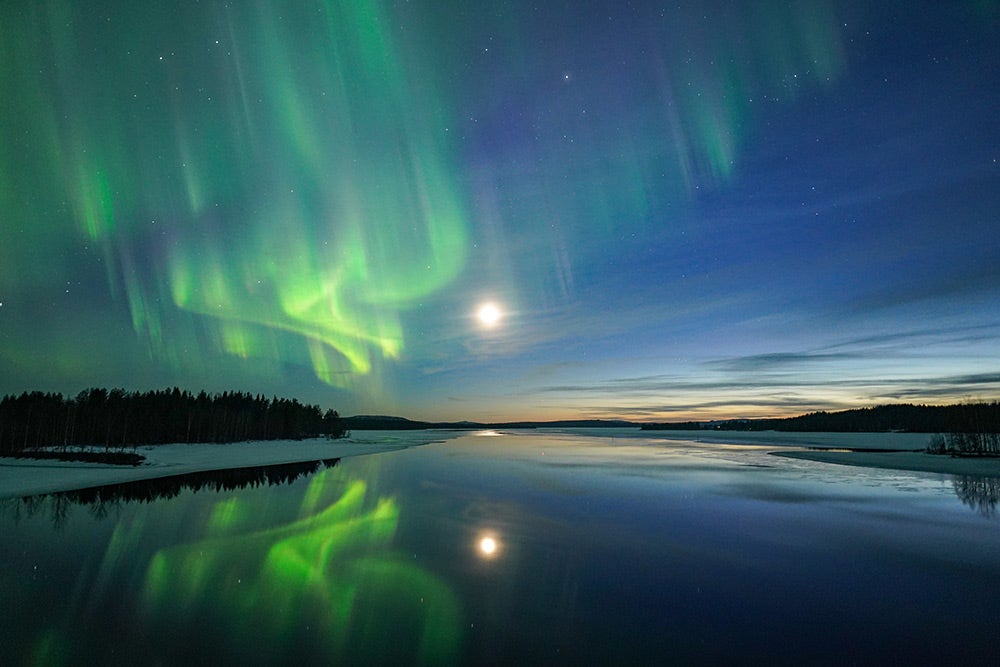 The best months to see Northern Lights in Lapland are September, October and February, March and early April. During these months, Lapland has usually quite stable weather conditions and statistically the best chances to catch the Northern Lights. The reason for that is also the so-called equinox effect which has a small impact on how earth and the interplanetary magnetic field can reconnect, giving better aurora shows even with not so strong solar activity.

But that does not mean that you cannot see beautiful aurora displays during the other months (November, December and January). It is just usually more difficult for us to find clear skies and some nights we need to drive up to 1000 km in a single night to be able to catch it.

Make sure to do your research
Also, do your research, if you are going to a place just for aurora hunting. Do not choose a company which has a time or km limit on the tours. Often you will come back with empty hands. Northern lights can appear sometimes as soon as the sky is dark if the activity is good and keep going until sunrise, while sometimes they can last just a few minutes and in those few minutes you want to see them

Aurora hunting is not just waiting by a fireplace, it is actually trying to get clear skies. Without clear skies you can forget about seeing the northern lights. Aurora appears between 80 and 600 km in the atmosphere, clouds are much lower so if you have a full cloudy sky you can do your calculations. So get to clear sky or find someone who can take you there.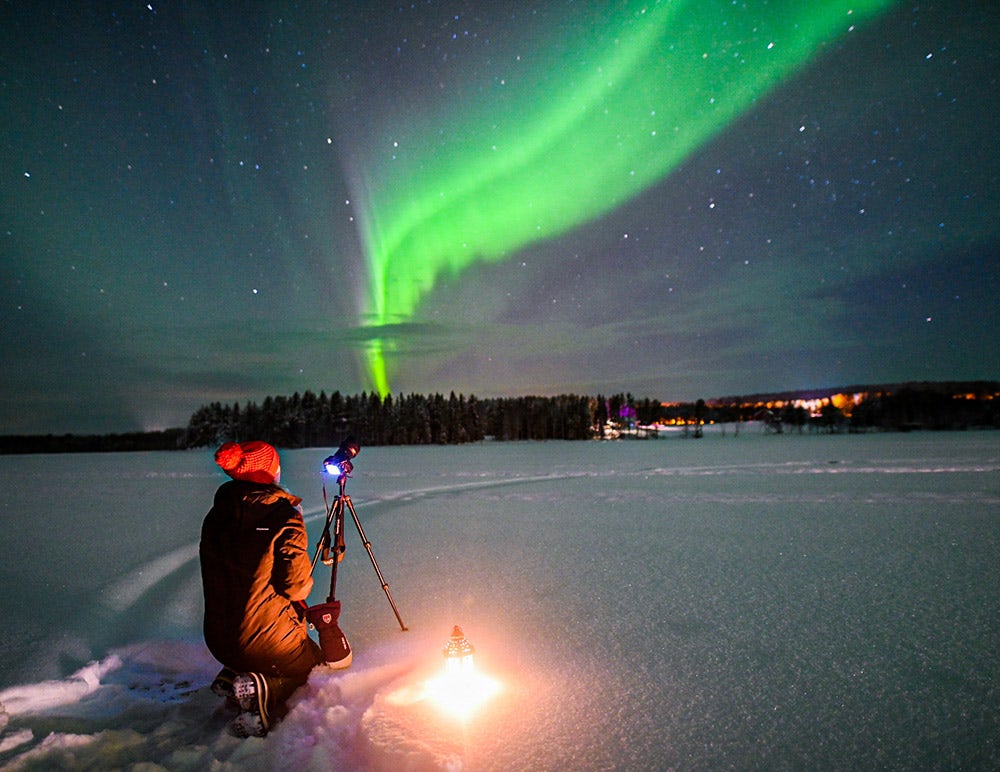 Using a tripod is really important to get sharp photos of the Aurora.
Photo: Lorenzo Mirandola
What to think about when going to take pictures of the Northern Lights - and the best equipment for Aurora photography
One of the most important things when taking photos of the Northern Lights is a tripod. As you are often using a long long shutter speed in night photography, you need a stable base for all kinds of terrain to not shake your pictures. The heavier the tripod the better, both for the safety of your camera but also to not have shaken photos if it is windy.


The big difference in the pictures is the lens and camera you are using.
A camera is preferred, which can do well in low light (high Iso performance). Full-frame cameras are definitely the best for it.
We personally use: SIGMA fp L, Sony A7 and Nikon D850 which can all do great things at night, for photos.
If we talk about videos, the best camera on the market for aurora video at the moment is the sony A7SIII which can hold iso 25.000 and behind.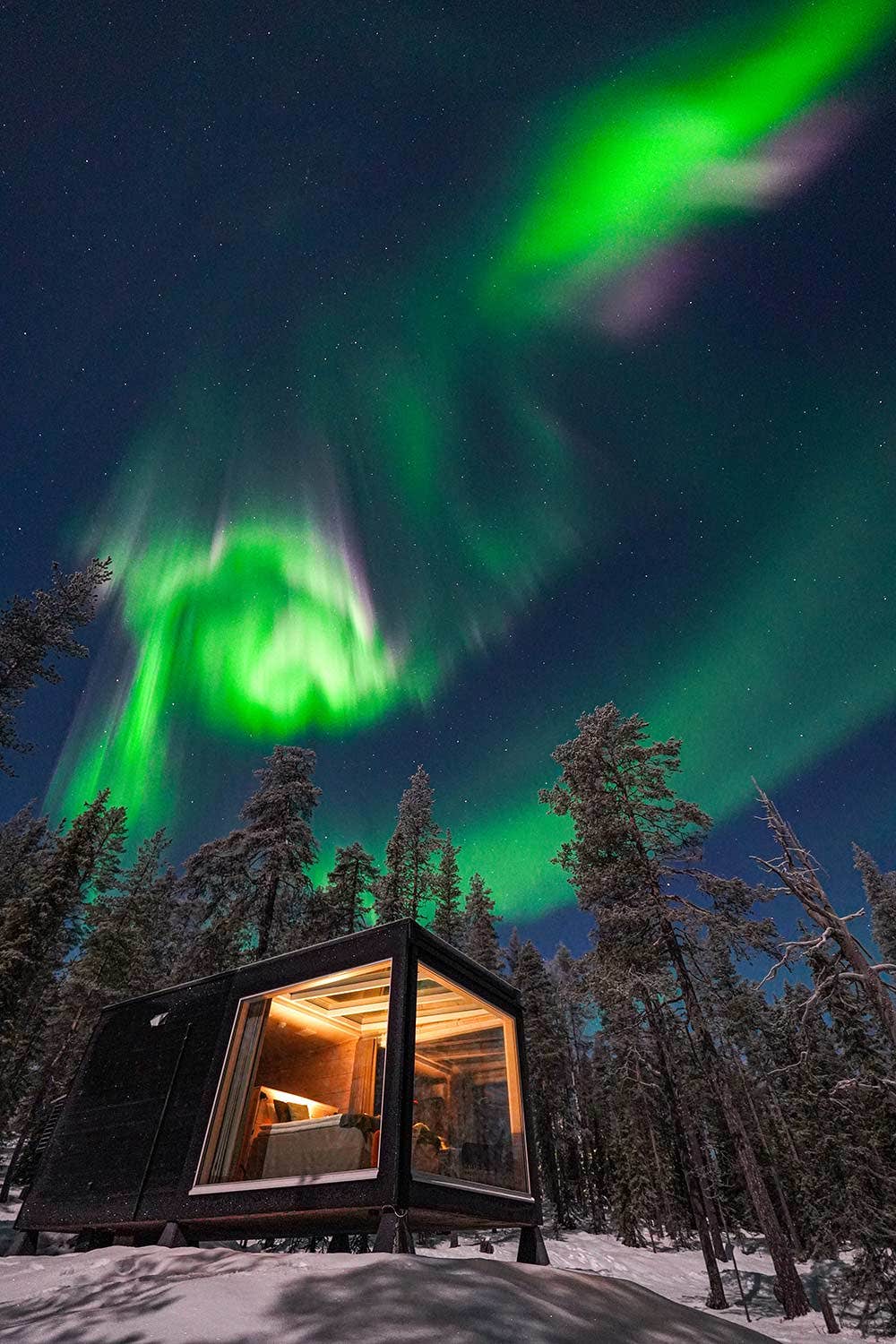 Using a tripod is really important to get sharp photos of the Aurora.
Photo: Lorenzo Mirandola
The best lenses for Northern Lights photography are wide angle prime lenses. Strong Northern Lights might be all over the sky, so the wider the angle, the more Northern Lights formations you can get on your picture.

The advantage of most prime lenses is that they have a wider aperture: F1.2, F1.4, F1.8 (so the biggest aperture possible). A good aperture makes especially in dark environment a big difference in your picture and also in focusing at night. Focusing on stars with F3.5 is pretty hard for most of DLSR, easier with mirrorless camera but still no ideal. Also sometimes northern lights can move really fast and to not have blurry photos you need to set a 1 or 2 seconds shutter speed, which is possible to use only with a wider aperture.

Wide angle lenses also allow you to be able to shoot the Northern Lights and the landscape at the same time and, mostly when aurora is above head you definitely need at least a 24 mm or 20 mm, but better 14 mm.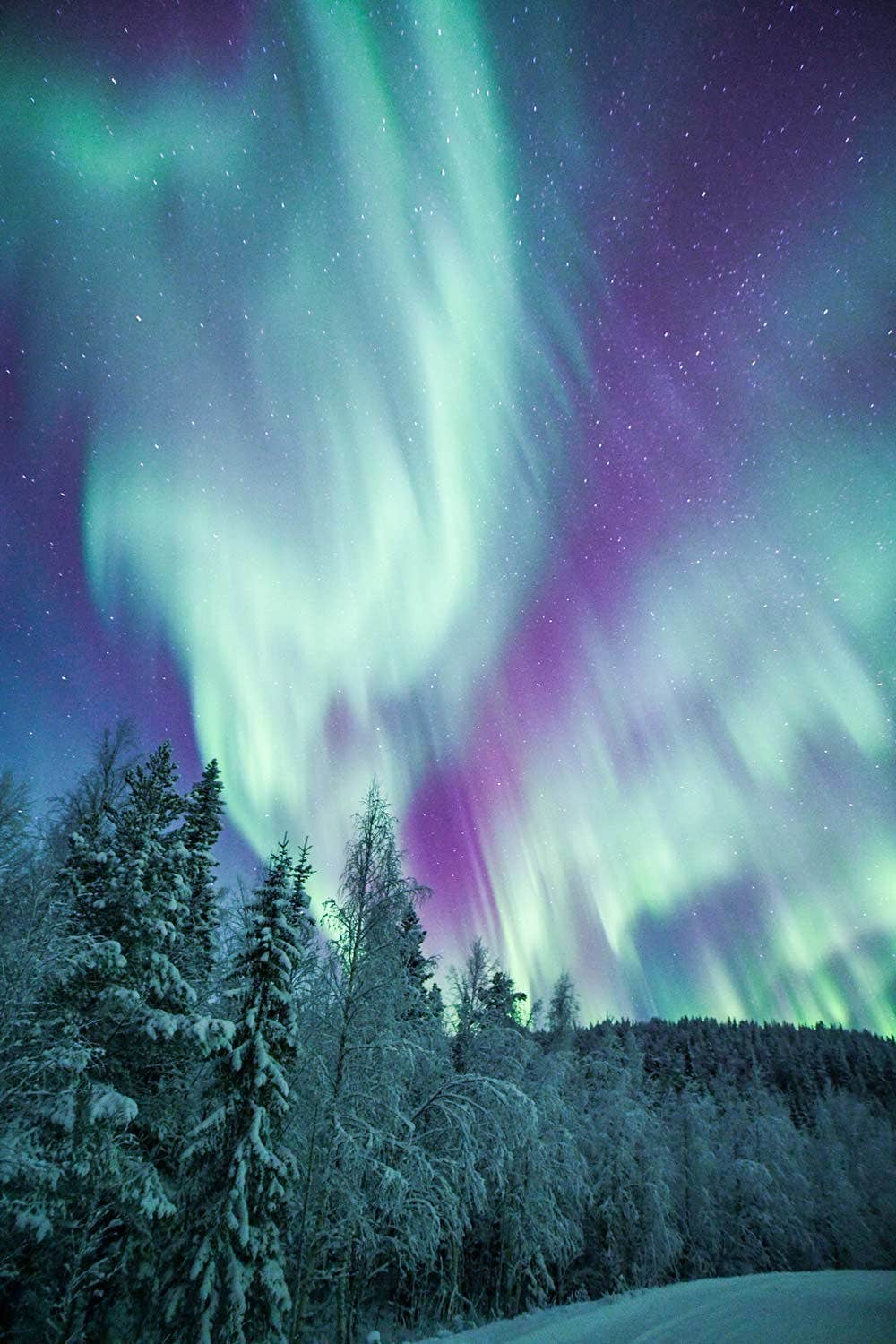 It takes a lot of time to learn, but you can choose which lens to pack according to the aurora activity and where you are located.

What we monitor is usually the solar wind on real time, density, speed, interplanetary magnetic field and BZ. Forget about the KP index that is not related to aurora forecast and if you would check that you most probably will miss the best shows!

According to the activity and where you are located, the aurora might be lower in the north-west orizion, on the southern horizon or above your head. Of course the ideal is to have the northern lights above your head, because it is much nicer to see and also to get photos, but you can switch lenses according to that. During a night where the aurora is located might change multiple times so be ready to switch lenses when it does.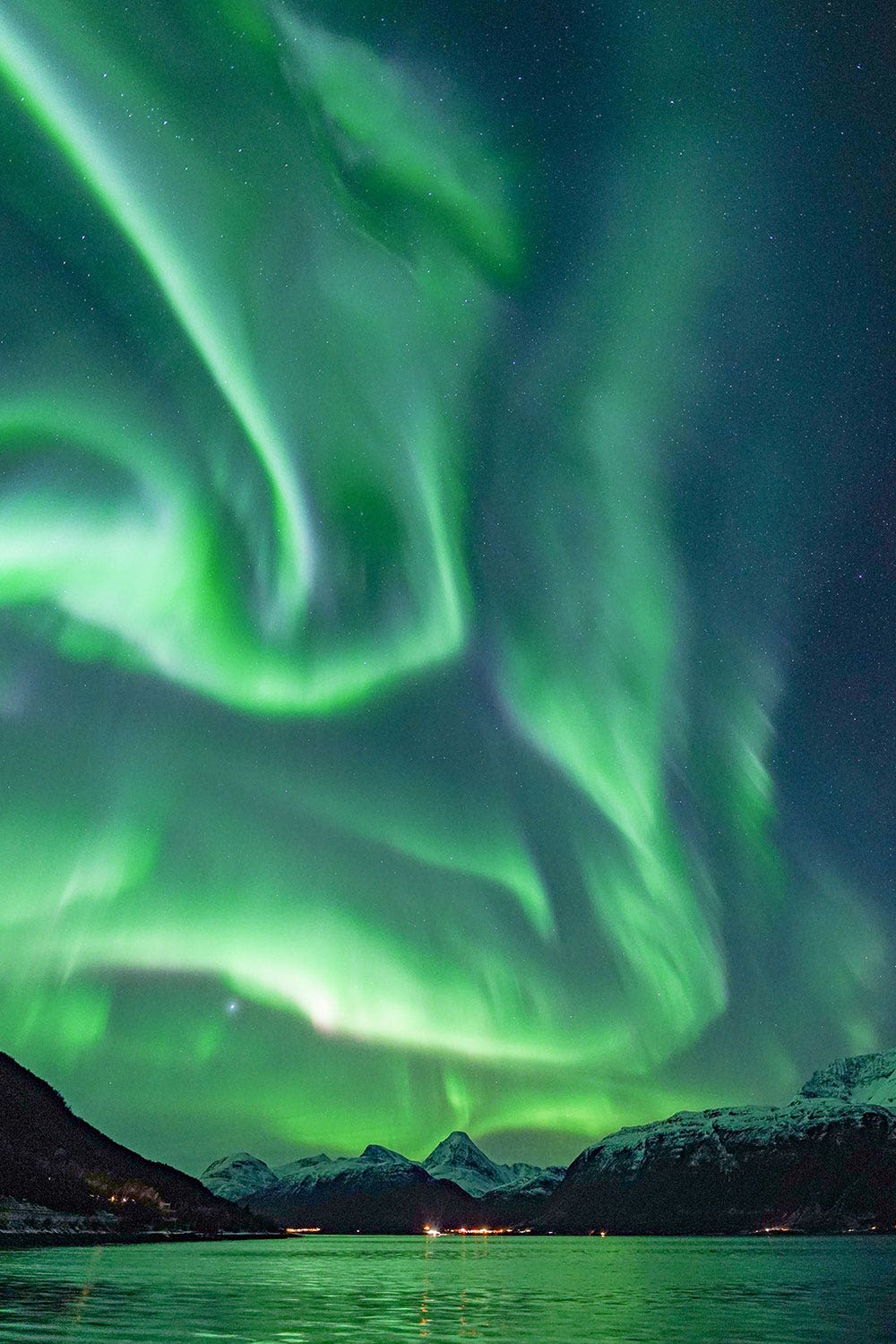 A wide-angle lens, SIGMA 14mm F1.8 for capturing all the shapes of the Aurora.
Photo: Luisa Schaffner
One practical advice: Before you leave for a Northern Lights hunt with your camera make sure you charge all your batteries and you have spare ones with you and keep them in the warm close to your body or they will be empty without even using them!

Also take in consideration to take spare batteries because in the cold the batteries run out of power much faster than with a moderate temperature.
Best lenses for Aurora Photography
The best lenses to use for Aurora photography are
• SIGMA 14 mm F1.4 | Art
• SIGMA 14 mm F1.8 | Art
• SIGMA 20 mm F1.4 | Art
• SIGMA 35 mm F1.2 | Art
• SIGMA 24-70 mm F2.8 | Art (much smaller aperture)

The new SIGMA 14mm F1.4 | Art and SIGMA 14mm F1.8 | Art are probably our favourite lens when we get strong auroras. The wide angle can take almost the whole northern lights sky and a bit of the landscape as well, making it one of the absolute best lenses for overhead auroras. The new SIGMA 14mm F1.4 is also our favourite lens for northern lights video on real time, super sharp and the first 14mm with an aperture of 1.4.

The 14mm lens is not good only in case of small auroras, because they will look really far away on the horizon, in that case you need to switch to another lens.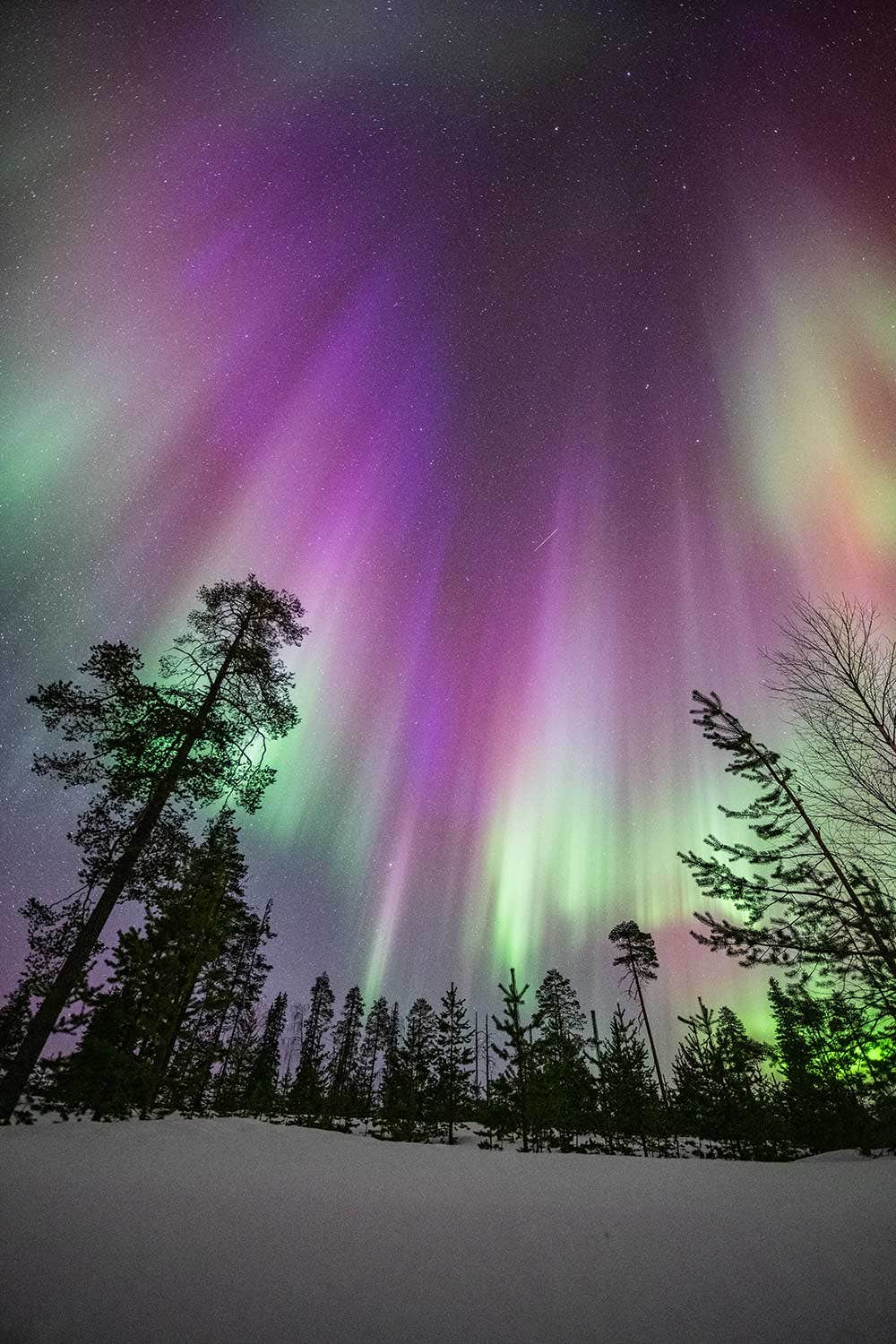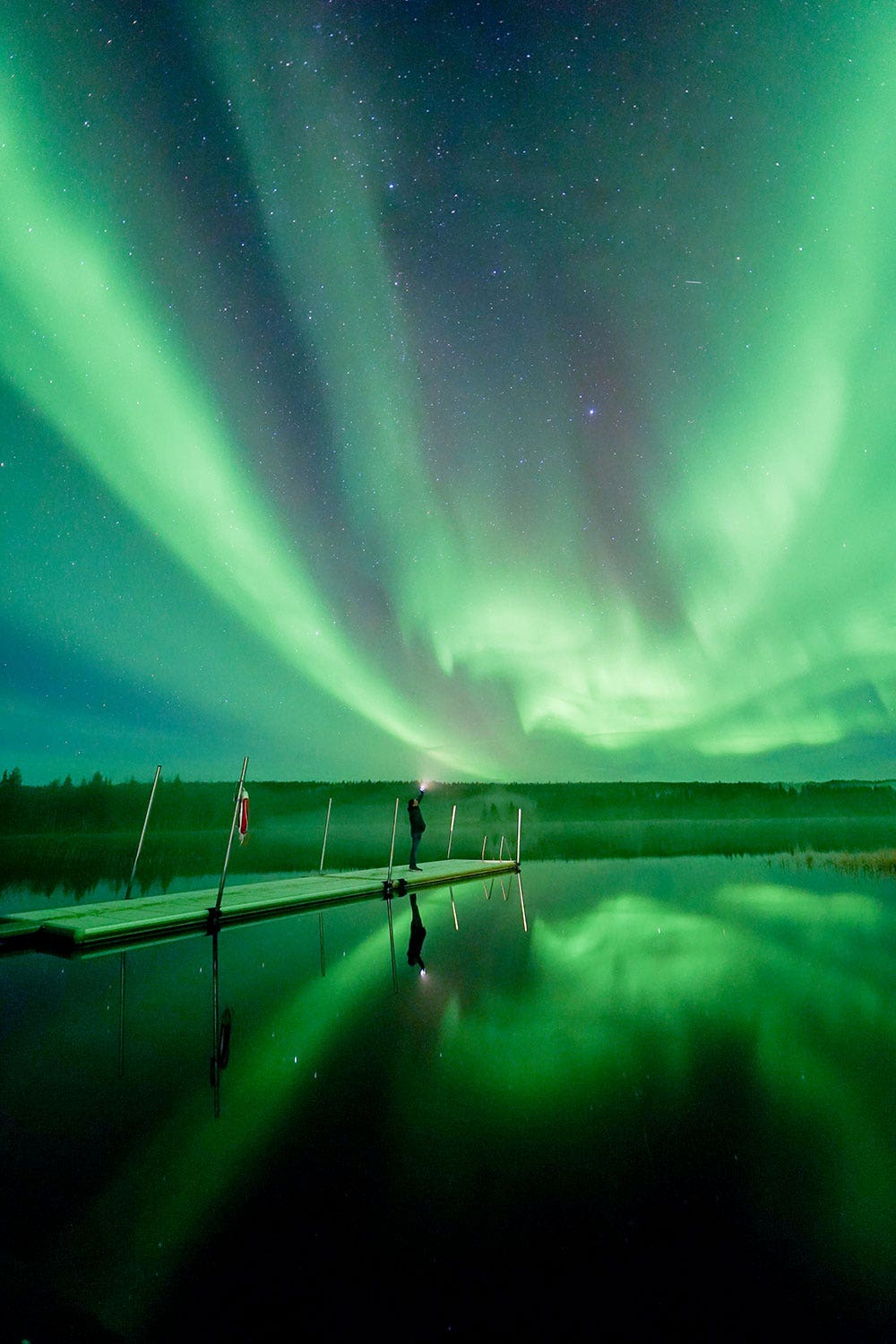 Aurora captures with SIGMA 14mm F1.8.
Photo: Lorenzo Mirandola, Luisa Schaffner
SIGMA 20mm F1.4 | Art is great for both smaller and bigger auroras, of course it does not have the same wide angle of the 14 mm but it can still take a big part of the sky and part of the landscape at the same time. The 20 mm is also great if the aurora is lower at the horizon, while I would not use it much when the aurora is above your head because in that case 20 mm is not enough to get the whole show. Also an amazing lens for aurora videos.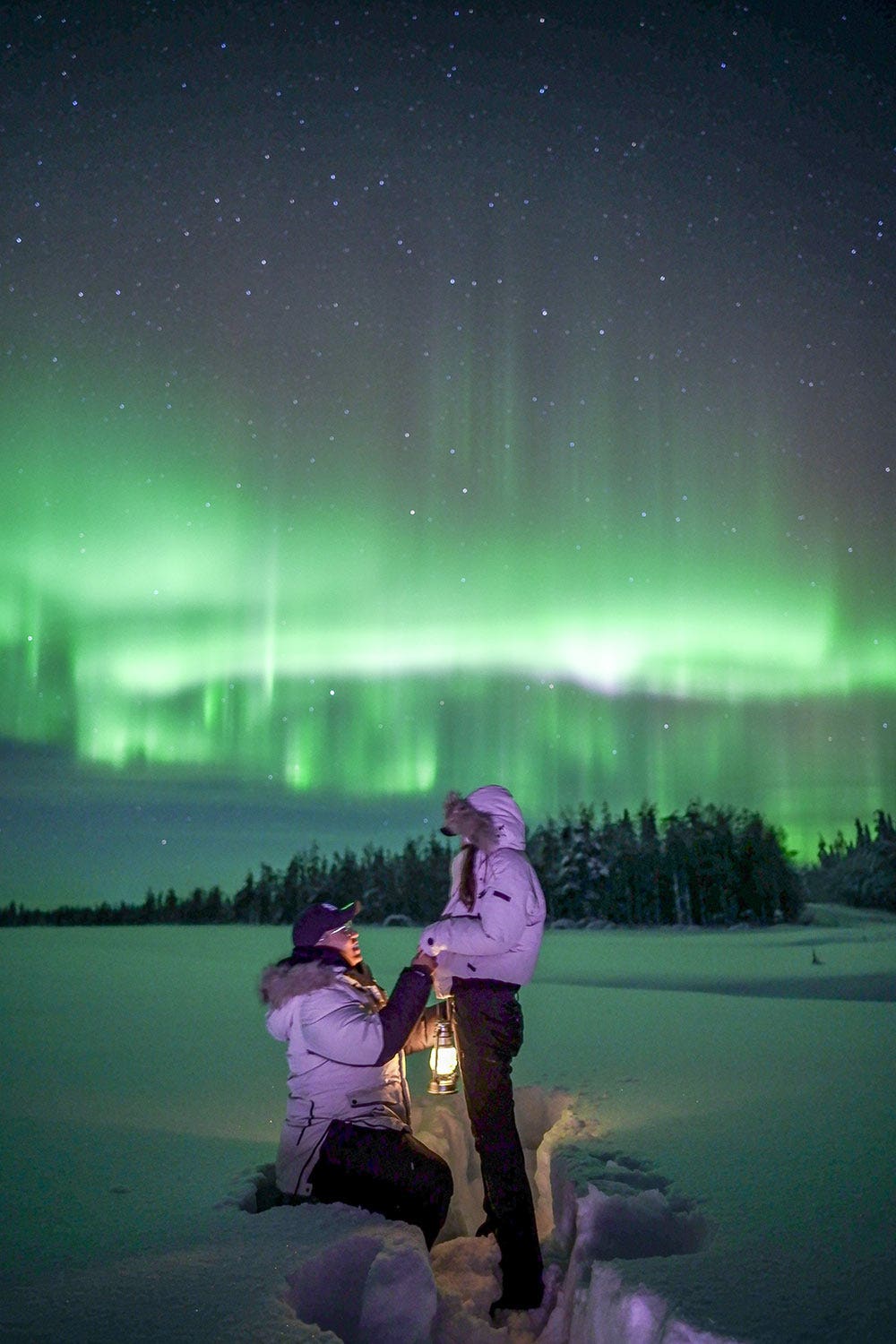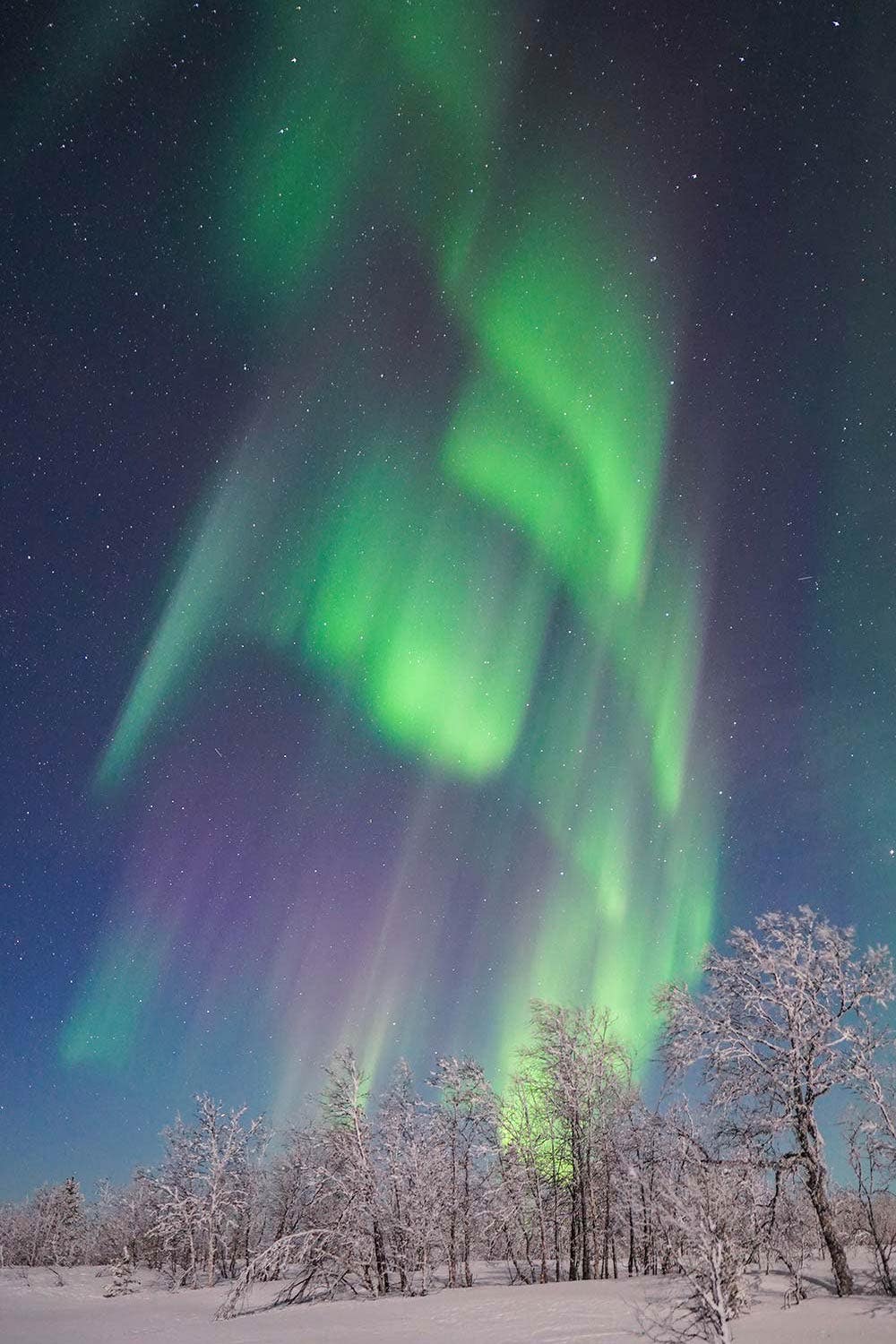 Photos taken with SIGMA 20mm F1.4.
Photo: Luisa Schaffner
SIGMA 35mm F1.2 | Art being one of the fastest lens in the world with an aperture of F1.2 this lens is great for smaller auroras (start to be not so wide angle) or aurora pillars which often happen in the northern horizon after an aurora explosion (substorm). Great lens for filming as well given that it can take so much light.
SIGMA 24-70mm F2.8 | Art is still a great lens for aurora but F2.8 starts to be a bit too slow for northern lights. Is amazing for landscape and aurora when you want to get a shot of bright auroras and mountains or some smaller details with the northern lights in the background. Also it is not possible to get great video since with F2.8 you need to get much higher ISO which increases the noise in the filming. We got a great timelapse of aurora and the mountains with this lens.
Overall, if you need to choose two lenses I would go for SIGMA 14mm F1.4 and SIGMA 20mm F1.4. Those are the ones we use the most.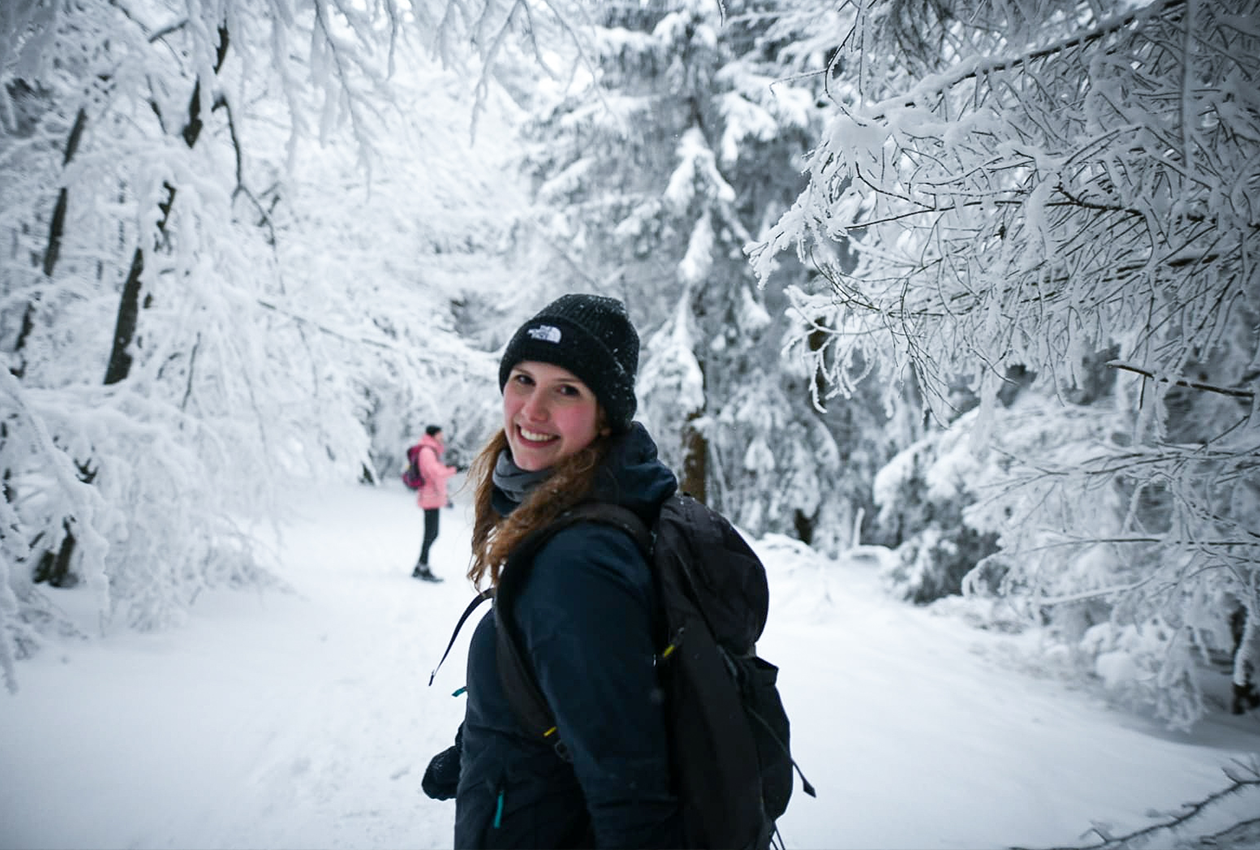 Lorenzo Mirandola & Luisa Schaffner
Photographers & SIGMA Nordic Ambassadors


Lorenzo Mirandola, originally from Italy, is an astro photographer based in Lapland, Finland. He moved to Lapland for studies and immediately fell in love with the northern lights. Today, he lives his dream, capturing the beautiful northern lights, and even arranges expeditions and roadtrips to explore northern lights and astro.

Luisa Schaffner, originally from Germany, got her first camera when she was 9 years old. She also fell in love with the arctic nature and started to learn more about astro photography. Today, she arranges expeditions and roadtrips together with Lorenzo in Arctic Road Trips.